Newbie parents are looking for all types of safe baby products and baby car mirror should be on the list. Baby car mirrors can be for backseat, head rest or for front rear-view mirror. You might need the best baby car mirror to keep an eye on your little kid especially for small baby in a rear-facing car seat as you can't see them in the rear-view mirror. I still remember I always asked my husband to drive and I could sit next to my baby and keep an eye on him. If I drive by myself, I don't know he is alright, if he is getting bored and sleeping, or trying something funky, or if he is just missing his mommy and trying so hard to draw my attention. I should really have had a baby car mirror that time.
Why Do You Need A Baby Car Mirror?
You must have already seen the confusion over having or not having a baby mirror among many parents on various blogs and forums. The most common hazard people think about the baby car mirror is what if it falls off and land on the kid.
You may not possibly ignore this thought even if there are brands who claim their mirrors accident-tested and certified. But comparing the pros with the cons of these baby car mirrors, you will still want one for your baby. What is more relaxing than watching your baby by yourself, knowing that she is perfectly safe in the car? Through the mirror, you will know if your baby is sitting comfortably, enjoying the ride, having absolutely no problem and she is not missing her mommy because she is smiling at her through the mirror.
Not only for your baby, it relaxes you too. While driving, you don't need to continuously guess about your kid's safety and you can focus on the road. It will make the drive safer.
Now let's go back to the accidental fall off issue. Companies design all types of baby products including a baby car mirror with maintaining safety as a priority. They make sure their products are made of accident-proof materials and tested. They do their best to keep your baby safe.
There are plenty of options out there and I have done the research for you. Here is a list of some of the best baby car mirrors available in the market. Read carefully and select which would be the one you will feel safe with your baby.
List of Best Baby Car Mirror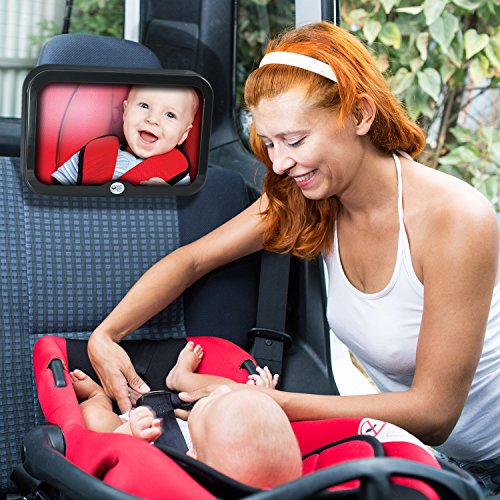 The first name in the list of best baby car mirrors is the baby car mirror designed by Safe Baby Tech. The brand is famous among parents for the crystal clear view and 100% safety guarantee. It is compatible with any vehicle you have. The mirror is very easy to use. Just unpack and attach it in the back seat of your car.
Features:
The mirror size is extra large. It measures 30 inch x 19 inch.
Crystal clear HD mirror.
Wide angle display.
Acrylic safety glass with black plastic border.
Adjustable, full 360 degree pivot.
Needs to be attached to the back seat.
Perfect for rear facing infants.
Pros:
The mirror is already assembled when it is in the package. So, you don't need to take any extra step for it. You can use it right from the package.
Its shatterproof design will protect the child in case of any unfortunate accident or crash.
Compatible with all type of vehicles. Such as, SUVs, vans, trucks, autos etc.
Comes with a full refund offer. So if you feel, you can return it to get the full money.
Cons:
It wouldn't work without a headrest.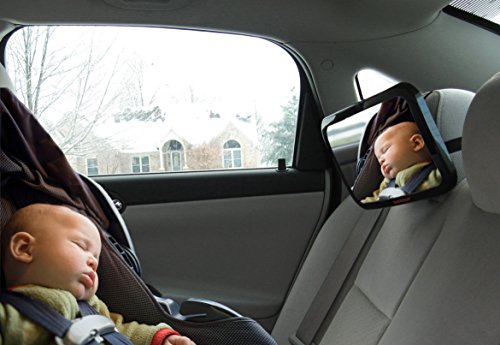 Daffadoot baby car mirror has made to the list of best baby car mirrors because of its popularity among many parents and grandparents. This lightweight and durable mirror serves great for all the parents who are always worried about their kids' safety in their rear facing car seat. This mirror is particularly larger than most of the brands available in the market. If you are looking for a head-to-toe view car mirror for your kids then this is your brand.
Features:
The mirror is lightweight, shatterproof, Cadmium and PAH free.
Wide angled and so the cover is satisfactory.
Dual-strap system included which can ensure maximum safety and stability.
Vertical and horizontal mounting option included.
Comes with a 30-days full return guarantee.
Pros:
The large mirror is designed in a way that the baby can see herself in it. And she can see mom as well.
The length covers toddlers of all sizes.
A crash test is included with certificate to determine the safety and quality of the mirror.
Comes with absolute control of viewing angle.
Works great in cars even without a rear center head rest.
Cons:
Some users have complained about the straps.
Does not work on for all type of vehicles.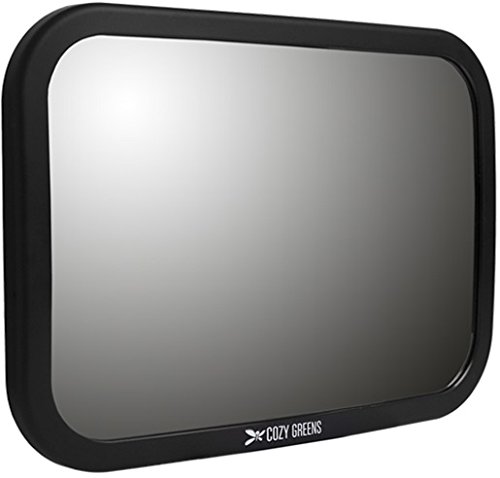 Cozy Greens has designed their baby car mirror with the top priority of safety. The glass is shutter-proof and crash tested with certificates. The holder of the mirror is strong and durable. It gives the clearest view. So moms and dads find it as the ultimate safe mirror and it is one of the best baby car mirrors available.
Features:
Shatter-proof safety surface, certified crash tested.
Outside dimensions: 9.5 inch by 7 inch, actual mirror dimensions: 8.5 inch by 6 inch.
Black polymer plastic holder.
Comes with a secured strap system to attach it to the vehicles head rest.
Full money refund guarantee included.
Pros:
Head-to-toe view of toddlers of any size.
Do not need to adjust the mirror repeatedly.
The mirror can be attached in such a way that it can rotate 360 degrees.
A dust cleaning cloth and a traveling eBook is provided with the package.
Cons:
Setting up the mirror in the car can be tricky.
If the car ride is bumpy, the mirror sometimes moves out of the place.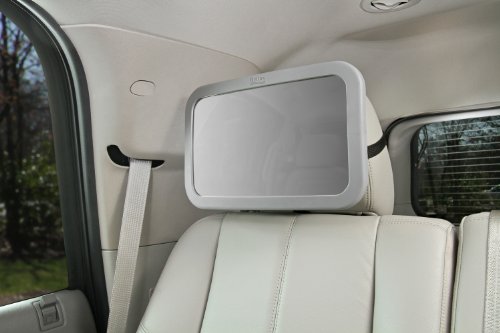 Britax USA has manufactured this great quality back seat mirror which pivots to let the parents see their little angles at any angle. You will find it super easy to install and once it is installed, you don't need to worry about your toddler from not seeing. Your kids will enjoy it too when they will see their mommy looking right back at them smiling. Thus, Britax Back Seat Mirror is one of the recommended best baby car mirrors in this list.
Features:
Large convex mirror. Comes with pivot attachment with the option of extended view on kids at any angle.
Shatter-proof glass.
Head-to-toe view.
The mirror can be attached to head restraints with adjustable straps.
Soft feel modern looking frame.
Pros:
Tested for accidents and certified as a safe option.
Two straps come with the product. Keep the lateral strap extra tight to keep the mirror in place.
Both car seats will be visible from one head rest of the car.
Lightweight material makes it safer.
Cons:
The mirror can be securely installed in the vehicles with removable rear headrests only.
Not the clearest mirror available in the market.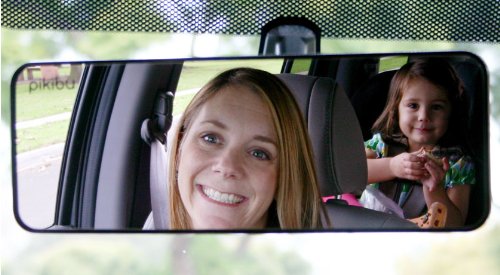 Pikibu baby car mirror is one of a kind. Parents can not only keep an eye on their toddlers but also check out their older kids time to time through the mirror. Also, the mirror is large enough to check out the interior of the car or to check out own reflection. Therefore many parents absolutely love this mirror and recommend as the best baby car mirror they ever had.
Features:
The mirror needs to be attached over the car rearview mirror.
The high quality spring connector is secure and covers a wide area inside the car.
Sharp visibility is offered with the material.
Pros:
All of the children in the car are visible.
The mirror is large enough to check out the interior of the car.
Catch the vertical blind spots easily and clearly.
The mirror does not vibrate, distort things or fogged up at all.
Cons:
The mirror is not free-standing.
Price is a little higher than other companies available in the market.
Having an eye on the child all the time is one of the most satisfactory feelings for parents. You can pick a great option from this list of best baby car mirrors for your personal use as well as for a nice gift in a baby shower. These baby car mirrors will help a parent to be relaxed about their baby and make a safe drive to anywhere.