After baby arrives (or even beforehand for some mothers) you will quickly realize that, whether breastfeeding or not, you will need nursing pads to prevent leaks through to your clothing. You may not even realize you are leaking breast milk, which can cause for some very embarrassing moments in the grocery store, walking through the mall or in some public places. There are both disposable and reusable nursing pads on the market, but if you are concerned about the environment, plan on more children or intend to breastfeed your baby, you should definitely consider purchasing washable and reusable nursing pads. Just like underwear, no two reusable nursing pads are the same. So how does one figure out which are the best reusable nursing pads to buy? The legwork is done—read through these reviews below for a great guide on what to expect from some of the best reusable nursing pads on the market today. First it is good to understand why reusable nursing pads may be a better option than disposables.
Benefits of Reusable Nursing Pads
Along with being eco-friendly, over the long haul reusable nursing pads will save you money. You should purchase a few sets so that you are able to change them frequently throughout the day. Since they can be washed and worn time and time again, no need to buy a new box when you run out like disposables. They are also more comfortable than disposables since many disposables have some type of plastic materials involved and don't always curve naturally with the woman's body. Reusable nursing pads are soft, cushioned material, similar to the inside of a bra and will contour more easily than plastic will. Some of the best reusable nursing pads even come in fun designs if that is your thing.
Best Reusable Nursing Pads
These heart-shaped pads are definitely amongst the best reusable nursing pads available to breastfeeding moms today. The heart shape allows perfect body contour and the very soft material is soothing on sensitive nipples. They are super absorbent and also available in a nighttime absorbency. Each package comes with 3 pairs of regular pads and 3 pairs of overnight pads for heavy leaking. They are not the most inexpensive on the market, at about $35 per box. It is important to note that mothers should not use nipple creams with these nursing pads as it affects their absorbency.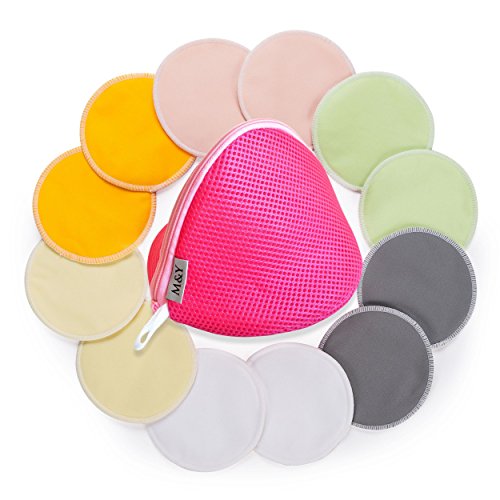 Being made from bamboo instead of cotton or other materials, these breastfeeding pads are not only softer but also more absorbent, making them one of the best reusable nursing pads you can buy. They fit into your bra comfortably, taking shape of your natural breast. They are available in two sizes to accommodate different bra sizes, which many nursing pads overlook. The outer layer of these pads are water-proof, preventing leakage through to your clothing.  They come in a package of 12 and include a free mesh laundry bag for easy laundering. They are inexpensive at around $17 per package.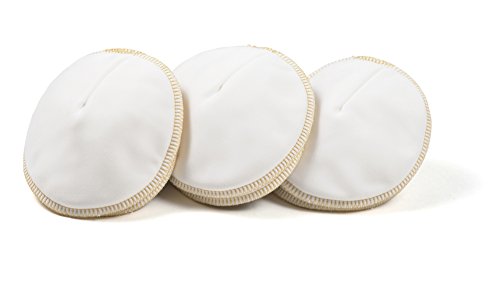 Their large size (5″ diameter) means there is lots of space to absorb leaks and accommodate larger breasted women, which puts them in the running for some of the best reusable nursing pads out there. They will eventually leak through though since there is not a protective outer layer like the above mentioned, unless selecting the type with the liner. Mothers can choose from three different cloth materials: organic cotton terry cloth, bamboo terry or also cotton terry cloth which features a StayDry liner. It is best to dry these in a dryer, since air drying can sometimes allow mold to form due to their large size. They come in a set of three, six pads total, and retail for around $18.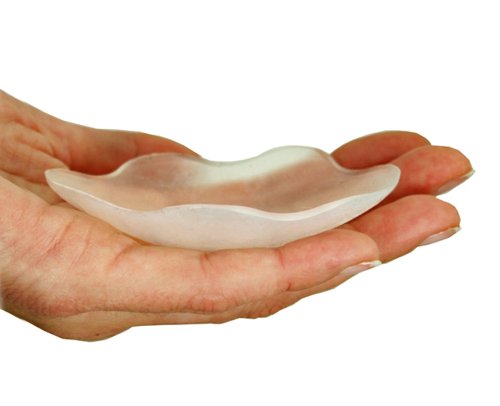 Despite being made of silicone, these nursing pads are very comfortable and lightweight. The fact that they prevent leaks instead of just absorbing them ranks them in the list of best reusable nursing pads for moms today. The silicone is completely safe, 100% medical grade and contours to the breast naturally. These pads give mom freedom to wear strapless clothing, go swimming without worry and even sleep without wrestling an uncomfortable bra—worth its weight in gold! The exclusive design of LilyPadz® maintains gentle pressure on the nipple while in place and forms a non-absorbent barrier that actually prevents breast milk leakage. With LilyPadz®, milk actually remains in the breast. There are two sizes available, regular and large to best accommodate different shapes and sizes. Mothers can start off with the starter kit which includes one pair of silicone pads, LilyWash and LilyWipes for safe cleaning of your pads. This starter kit is around $25 and additional packages of four pads (two sets) can be purchased for around $35.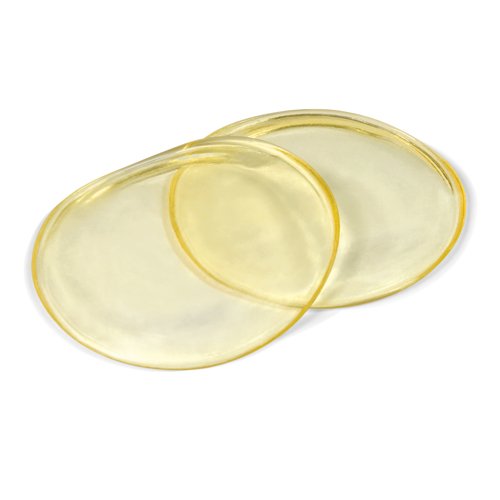 Coming in as some of the most affordable, these will make the best reusable nursing pads list for many other reasons as well. They offer soothing, cooling relief on contact to sore, sensitive nipples and last much longer than most reusable nursing pads on the market—up to 6 days! The gel provides a cushioned barrier between the breast and the bra, preventing rubbing and chafing. The super thin design allows them to sit comfortably and discreetly within your bra. The gel pads create a moist environment which then promotes proper healing of cracked, dried out nipples. For added relief, these pads can be put in the fridge to provide even further cooling affect without damaging the pad itself. They are available in a package of two pads for around $12, making them the most affordable amongst this list.
Lansinoh Soothies Gel Pads – No.1 Selling BPA-Free Gel Pad for Breastfeeding Moms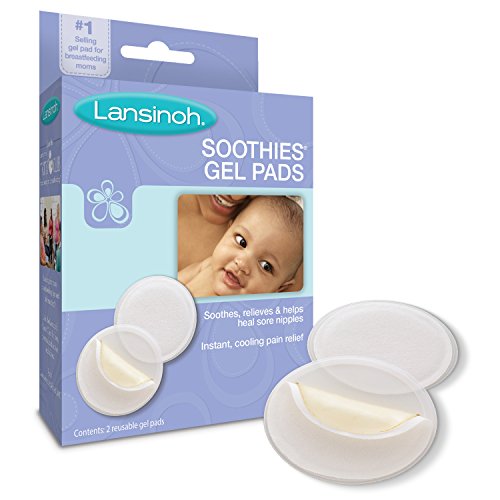 Mothers will appreciate these as some of the best reusable nursing pads especially when looking for some cooling comfort for sore, cracked nipples. These pads are made from a soft, absorbent gel which can be worn for up to 72 hours or until fully saturated. They prevent embarrassing leaks while offering much needed relief from bra friction with a fabric backing. These have helped some mothers continue breastfeeding when they considered giving up due to the pain and irritation they experienced with breast and nipple pain. They are available with two pads per box at around $18 per package.
Buying reusable nursing pads doesn't have to cost a fortune, nor does it have to be an overwhelming decision. Decide what your biggest priority may be, whether it be price point, comfort, size or whatever else you choose first and then explore the mentioned options. By selecting one of these items, you will be sure to have some of the best reusable nursing pads out there for breastfeeding mothers.
Buying Guide for Breastfeeding Moms