There are lots of things that put a strain on parents back. Some of these things are carrying their children and all of their children's supplies, playing on the floor with the children, and all of the extra chores that come along with having small children. One thing that should not be a strain on the parents back is the type of stroller that they have, but for taller parents this can definitely be a strain for their backs. This issue can be avoided by finding the best strollers for tall parents. In this article I will cover the best 5 types of strollers that were found for tall parents in the year 2017.
A stroller should be a useful tool for parents not something that makes being a parent more difficult. This can be the case tough if the strollers adds aches and pains from having to bend at a awkward position to be able to reach the handle bar and to be able to push it. For tall parents it is hard to find a decent stroller that doesn't make them bend over, and hurt their backs, to reach the stroller. These featured strollers have proven to be a useful tool for tall parents rather than a literal pain in the back.
So what are the different things that we should be looking for in a stroller? There are some different features to look for when looking at different strollers and theses features are size, functionality, weight capacity, added extras, and how these strollers are adapted for our taller parents. So let's break down what we want from these different features before we break down our top stroller picks.
Size – How big is the stroller? Is the stroller large and bulky and hard to take with you on your family adventures or is it light and compact and travels easily? Also is the stroller made for one child or two? This could be a feature that makes or breaks the stroller for parents that have more than one child that likes to ride instead of walk.
Functionality – What function is the stroller made for? Is the stroller make as a jogging stroller or is it just best for light strolls around the neighborhood? Can the stroller be taken off road or does it need to stay on level ground? Depending on what actives you and your family choose to do the most often these questions could be very important to ask about the strollers you are considering.
Weight capacity – How much does you child weigh and how much weight can the stroller handle? This really matters when looking at the age and size of your children and determining if the stroller will be safe for them and their sizes. If you have a newborn to small infant you want a stroller that can have a baby seat attached. If you have a larger toddler you want to make sure that the stroller can safely handle their weight.
Added extras – What added extras does the stroller have that can be useful to busy parents on the go? Added extras can include things like storage compartments, cup holders, and built in sun and weather protection.
A strollers adaptation for tall parents – How is this stroller made for tall parents? There are different parts of a stroller that can or have already been altered to make it so that it is a better fit for our parents that are tall.
With all of those different attributes of the strollers to consider here are the top 5 strollers that were picked to be best for our tall parents.
Best Strollers for Tall Parents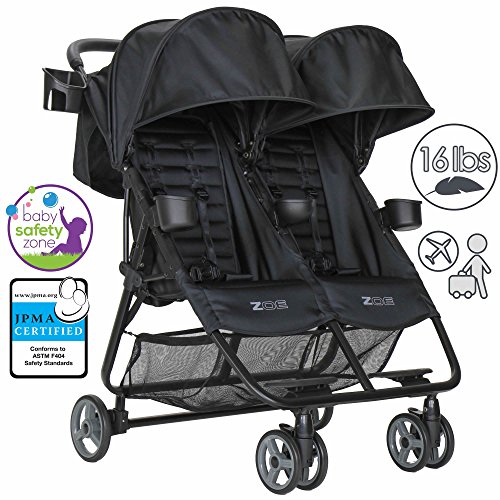 The first thing to note is that this is an umbrella stroller with two seats. The next thing that is so special about this stroller is that it only weighs 16 pounds, super lightweight. This means that it is extremely easy to pack up and take with you wherever you want to go.  For the stroller being so light weight and compact the fear is that it could only hold the smallest of children, but this is not the case in that it can support a child weighing up to 50 pounds in each seat. The is quite an amazing weight capacity for the size of the stroller.  The down side to this being an umbrella stroller is that it is not suitable or safe to put a newborn or young infant in and it is not capable of having a baby seat attached to it.
Now to talk about its functionality.  It does have a really smooth ride, despite its small size, due to the front wheel suspensions and rear wheel brakes. It is not made to take off road and will do much better if it stays on even surfaces. Another impressive aspect of this stroller is that it comes with a lot of extras. Some of these extras include a huge shade canopy that comes with four different panels so the size can be altered depending on your needs at the time. Also it has a 135 degree reclining seat on both seats so that when your adventures wear out your children they can crash and still sleep comfortably.  If safety of your little ones is a big concern you will like the 5 point backpack style harness and the padded belly bar  that is on both sides of this stroller to keep you little ones safe and snug in their seats. Other added features on this stroller are its large storage pockets, the children's drink holders, the snack cup holder, and the parents cup holder.
Now the most important thing for us to look at is how is it altered for our taller parents that are looking for the perfect stroller. The handle bars of this stroller sit at 40.5 inches off of the ground and are not adjustable. This is pretty average for the standard umbrella stroller. The thing that makes this stroller stand out for tall parents is that the axel is recessed which provides extra kick space for our tall parents with long strides.
Pros:
Very lightweight weighing in at 16 pounds it can travel anywhere your family does
Capable of carrying two children up to 50 pounds each
Rear axel has been moved so that there is more kick space for tall parents
Cons:
Can not handle any kind of off road terrains
Is not suitable for newborns and infants until they can hold up their own heads and can not have a baby seat connected to it
Handle bars are not adjustable making it difficult for some of the taller parents to push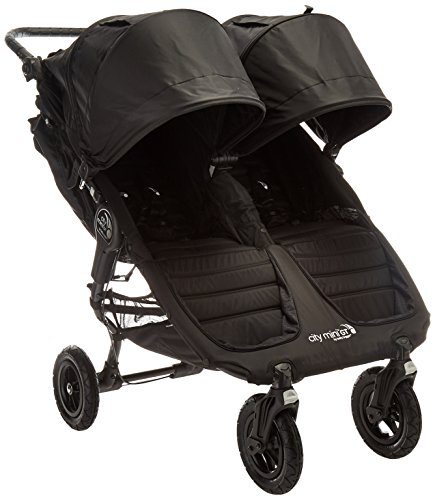 This stroller is a double stroller meaning that it can also carry two children. It is capable of holding a baby seat which means that it can carry newborns up to young children. This stroller weighs in at 32.5 pounds. This means that it is a little more difficult to take with you but not impossible. It is capable of handling up to a combined weight of 100 pounds between to two children.
Even though this stroller states that it is a jogging stroller in its name it is not actually a jogging stroller. Although it does function well to take on low key jogs, walks around the neighborhood, and other family activities. It is made with all-terrain wheels, front wheel suspension, and swivel wheels in the front which makes it comfortable to push and a smooth ride for its passengers. It even has a hand break that makes it so that you don't have to use your foot to stop the stroller.  Even though it says that it has all terrain wheels it is not very capable of handling difficult or rough terrain.
This stroller also comes with its added extras that all parents enjoy and find very useful.  This stroller's extras are its sun canopies that go over the little ones to protect them from the rays, and also its storage compartments on the backs of the seats and underneath the seats. One down side is that if the bottom storage compartment has larger luggage in it the luggage can get in the way of the wheels and make it really difficult to push.
Now for the extras for are tall parents. The handle bar on this stroller is adjustable being capable of raging in height from 30 to 43.5 inches off the ground. This means that instead of the tall parent having to bend over and being uncomfortable while they are pushing the stroller they can adjust the handle bar and put it at a comfortable height for them.
 Pros:
The stroller has two seats that can handle two newborn baby seats or children up to 50 pounds
The stroller can handle going on low impact jogs to long comfortable walks
The handle bar is adjustable so that even the tallest of parents don't have to hunch over to push the stroller
Cons:
The stroller can not handle rougher terrain
Even though it is named a jogging stroller it is not capable on going on quicker paced, higher impact jogs or runs
Even thought it has good size storage compartments on the bottom of the seats it can't handle them being full or else it gets in the way of the stroller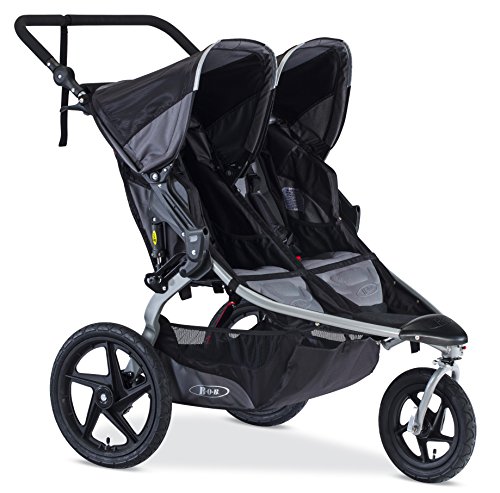 This stroller is a two seater with the capacity of carrying two children. It is capable of carrying 50 pounds of child per seat. This stroller also has the ability to have a baby seat attached to it so even the smallest of children can enjoy the ride. This stroller weighs 33.1 pounds, which again makes it a little more difficult bring along wherever the family is going.
This stroller has a lot of attributes that contribute to how well it functions. It has an adjustable suspension system that can make the ride as smooth as possible for the little ones no matter how bumpy the road gets. Also contributing to the extra smooth ride are the three inches of travel and the two stages of weight support. The wheels are air-filled which offer a smoother ride than the standard wheel.
To accommodate the tallest of parents the stroller has a handle that has nine adjustable positions ensuring the most comfort possible. With the adjustable positions the handle height ranges from 33.5 to 50.5 inches off of the ground.
 Pros:
The handle has nine adjustable setting ensuring the best comfort possible no matter your height
Lots of special features to ensure that the ride is as smooth as possible for its little passengers
Two seated stroller capable of having a baby seat attached to it giving it the ability to carry children from newborns to 50 pounds.
Cons:
Not made to handle all terrains
Not made for jogging or running
This is a one seated jogging stroller. This stroller is especially made for the parents that enjoy an extremely active lifestyle and want to include the littlest family member in their love for adventure. This stroller is also light weight weighing in at 28.5 pounds. This makes it extremely easy to take on all of the family's outdoor adventures. Even though it is lightweight it comes in with and extremely high weigh capacity of being able to handle a child up to 55 pounds.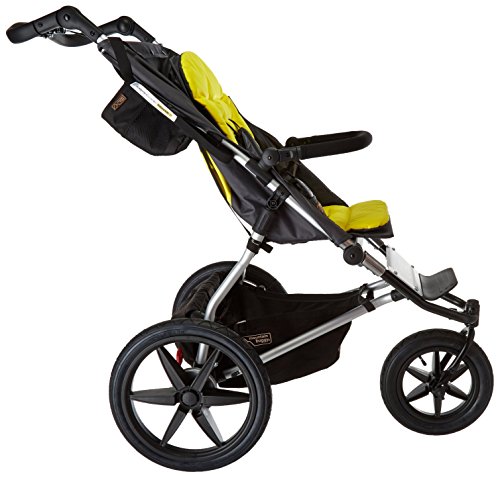 This stroller is packed full of special features. The most important ones being the ones that keep the little one safe in their seat. To ensure safety it has two sets of breaks one on the handlebar and one on the rear wheels. This makes it so that you can take it out on all kinds of different terrains but know that it will stop quickly and safely if need be.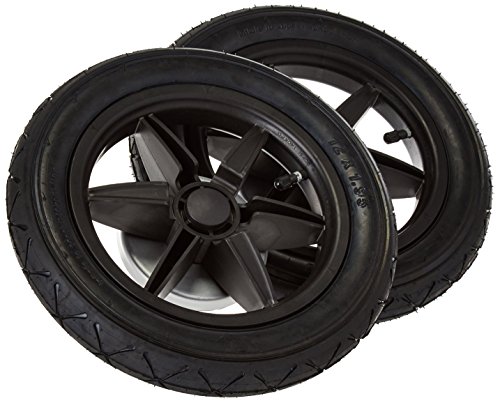 Another feature that this stroller has to make it more all terrain friendly is that it comes with two different sets of wheels that you can switch out quickly and easily.  The wheels are a 16 inch air filled rear wheel set that is made for taking on rough terrain and a 12 inch air filled rear wheel set that is made for nice even developed walkways. This stroller also comes with a lot of storage space making sure that you can pack all of the needed essentials for the family outings. The storage compartments on this stroller are capable of carrying 23 pounds of the most critical supplies. It also had a canopy that can be pulled down to cover the baby from the elements but the canopy is a little difficult to move back and forth from its different positions.
This stroller also has an adjustable handle bar height. This changes the height of the handle bar to be anywhere between 36.5 and 48.5 inches from the ground. Again making this a very friendly stroller for tall parents.
Pros:
Made to handle all terrains so it can be taken on the family's favorite outdoor adventures
Has a really high weight capacity being able to safely transport a child weighing up to 55 pounds
Has lots of extra features that ensure that the baby on board has the smoothest ride possible
Cons:
Only has one seat so it can only carry one child at a time
Have to physically change out the wheels depending on where you want to take the stroller
The canopy is difficult to move back and froth from different positions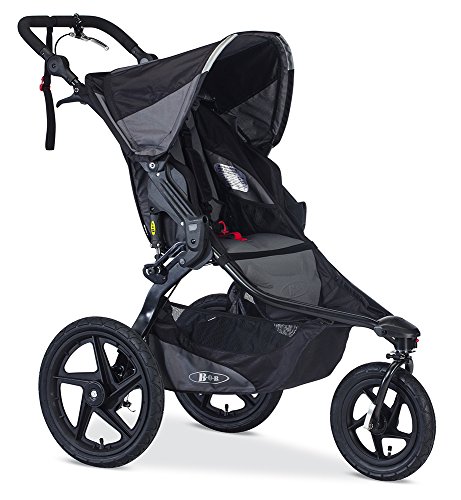 This stroller takes first place because it has been rated as the best jogging and all-terrain stroller,  for tall parents, that is on the market. The stroller only has on seat but that one seat is capable of having a baby seat attached to it so you can carry all ages of little ones up to 50 pounds. The stroller itself weighs in at 30.5 pounds, but it does have a two step fold process that makes it easy to transport.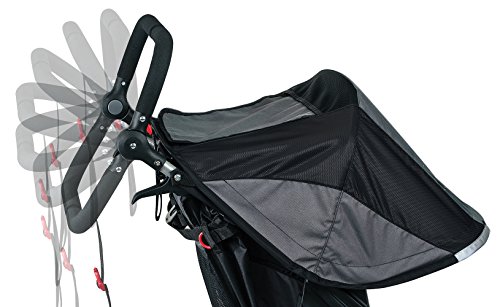 This stroller is made to take with you wherever you can dream of going. It comes with hand activated rear wheel brakes on the handle bar that makes you have the best control of it no matter what hills you are climbing. The front wheels can be switched to either swivel or lock in place depending out what activities you are doing. The wheels on the stroller are air-filled high impact polymer to ensure the smoothest rides on the bumpiest road. It also has advanced suspensions that provide 3 inches of travel and two stages of weight support.
This stroller also has a adjustable handle that can be moved in between nine different positions to ensure that the parent can find the most comfortable position possible while pushing their child. The height of the handle bar can be adjusted to 34.5 to 48 inches from the ground.
Pros:
Many special features that make this stroller extremely adapt to take on any outing
Adjustable handle bar to ensure that the parents pushing this stroller are as comfortable possible
Easy two step folding so that the stroller can be packed up and taken with the family
Cons:
Holds only one child at a time
This is the completed review of the 5 best strollers for tall parents, that are now on the market in the year 2017,  for all parents that are tall and want the best stroller they can buy.
If you want to check more strollers, you can read our posts on Best All Terrain Stroller Travel System, Britax B Ready VS B Agile Strollers, Baby Jogger City Select VS Uppababy Vista and Best Side By Side Strollers.