There are a lot of good reasons to start cloth diapering instead of using disposable and there are different types of cloth diapers which will meet your needs on the market. Disposable diapers create a lot of environmental waste, because they can take over 200 years to decompose in landfills. Disposable diapers can cost up to $1,500 a year. Not to mention the chemicals on your baby's skin and possible allergies.
Although a lot of people told me to wait until the baby was older to start cloth diapers, we felt strongly we didn't want to create that much waste. However, jumping into the cloth diapering without doing proper research isn't a great idea. If you want to cloth diaper your newborn, researching and having the right information is key, such as what types of cloth diapers are good for your newborn.
Newborns are tricky, because they can vary in size! Ultrasounds are not really the best for predicting measurement of the child. Newborn cloth diapers could fit up to 12 pounds, but it really depends on the waist size and thigh size of the baby too. So how long you will use newborn cloth diapers will depend on the baby. Some babies maybe only a month, some months. The good news is that you can reuse the cloth diapers with another baby, or sell them to another family, as cloth diapers hold their value fairly well.
When you go to buy cloth diapers for your newborn, you may get overwhelmed at the options. There are some options that are more for ease, and some that are better cost-wise. Here is an overview of different types of cloth diapers you will see.
Different Types of Cloth Diapers
All-in-ones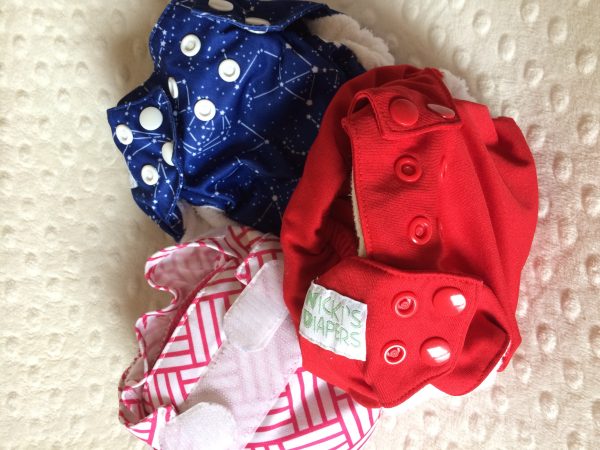 All in one diapers mean everything is attached, like a regular diaper. The cover (also called PLU) is sewn to the liner and insert. These are the easiest to use, since it's the most like a disposable diaper. We use these when we are out and about, so we don't have to carry as many pieces. I also leave one for my mom to use.
A major downside is that you need a lot because newborns need changing so much. They aren't that cheap either, ranging from $10-30 a diaper. Also newborns will often go through the absorbency of these diapers before they are sized out of them, and the absorbency can't be altered.
Pocket diapers
These are similar to all-in-ones in that you use the diaper, then have to wash the whole thing after it's been soiled. But the inserts or absorbent part goes in a pocket, and you can alter the inserts if desired. The types of inserts could be: microfiber (most common), bamboo, hemp, or cotton.
With both pocket diapers and all-in-ones, you may be doing laundry more often unless you have enough diapers for a few days, which could be expensive.
Covers and Prefolds or Flats
This is more of the "old fashioned" system. You fold up a piece of fabric (prefold or flat), secure it, then place a cover over it. The pros are that it is a lot cheaper than the other systems. You can reuse the cover if they only pee, and if they poo it may not even soil the cover. So you don't need 20 covers, just anywhere from 3-6 a day depending on your child. The con is that you have to fold the inserts up each time, which takes a bit more work than putting on a pocket or all in one. But for newborns, the absorbency of the all in ones can run out before the baby is ready for "one size" diapers, so prefolds/flats are a great option because you can vary the type of absorbency fairly easily.
Prefolds you do need to buy in the correct size, for example newborn or small for newborn, but flats you can us with different folds until toddlerhood. Therefore with the longest life, it is the cheapest option.
You can do laundry a bit less with this method if you have a lot of prefolds or flats with just a few covers.
Covers and Fitteds
Fitted diapers are like a piece of the cotton diaper all folded up already. They come in cotton, bamboo, or other absorbent materials. You need to put on a cover so the wetness doesn't soak through. They are very absorbent, pretty easy to put on, and customizable to an extent. I use these for overnights for my newborn. They are by far the most absorbent. We prefer 100% cotton fitteds. Fitteds and covers could still be cheaper than all-in-one diapers, but it depends on the fitted, they range in price from $5 on up. If you already do covers and prefolds, it's a good option to have some fitteds since you already own the covers. We haven't had any leaks with ours provided they are put on correctly.
Closures: Hook and loop (aka Velcro) or Snaps.
Hook and loops are great because they are quicker and you can adjust the fit a bit more. They are a must for anyone with arthritis or trouble with snaps for another reason. The downside is that you have to make sure you close the tabs so they won't catch on things in the laundry. And Velcro won't hold up over time. The upside of snaps is the long term durability and they are less likely to come off accidentally (which is more of a concern for older babies who can start pulling at them). Snaps also help because you can alter the rise of the diapers, making them work for different sized babies or as baby grows.
Brands: Brands vary in terms of fit.
For newborns, you really have no idea what size your baby will be once he or she is born. Some babies are out of newborn diapers relatively quickly, because they are large. Other babies may not even fit in newborn right away due to their small size. It is recommended to have a few different types of diaper brands to see what fits your baby best at birth.
Popular brands are Thirsties, Rumparooz, Blueberry, Imagine, Nicki's, Bummis. You can check my another post Top 5 Best Cloth Diapers of 2016.
Where to Buy:
There are many quality cloth diaper websites to order different types of cloth diapers from. Some of the most popular that have good reputations are: Cotton Babies, Green Mountain Diapers, and Nicki's Diapers.
Resources:
Fluff Love University is a great place to get information on how to wash your diapers and other questions, such as how to choose the Best Laundry Detergent for Cloth Diapers.