Breastfeeding is the healthiest and most preferred method of feeding for newborns and young babies. Mother's take pride in being able to naturally provide nourishment for their baby, and the special bond between mother and baby that nursing creates is indescribable. However, it's not uncommon for breastfed babies to transition to bottle-feeding at some point in time due to the mother not being present at feeding times (i.e., at daycare). In order to limit the strain this transition can cause, mothers need to look for the best bottles that are specifically designed for breastfed babies.
When searching for the best bottles for breastfed babies, there are a few important features you'll want to look for. Ideally, the nipple of the bottle should have a wide base with a soft texture. This will imitate the feeling of an actual nipple, making your baby feel more comfortable while they're feeding. Bottle nipples that contain a slow flow, or baby controlled flow, are also best because it'll help prevent overfeeding, colic, spit-up, and gas.
There are several different brands of baby bottles out on the market today, and it's not always easy finding the one that your baby will adapt to the best. By making sure that the bottle you purchase has all of the ideal features necessary for a smooth transition from breast to bottle, you'll rest assured that your baby will continue to feed, grow, and develop properly. For young children, I would also recommend to sterilize the baby bottles once every day. Let's take a closer look at the top ten best bottles for babies who are breastfed.
Top 10 Best Bottles for Breastfed Babies
1. Comotomo Natural Feel Baby Bottle
Designed to create an easy, less fussy move between breastfeeding and bottle-feeding, Comotomo Natural Feel bottles have a natural-feeling nipple that'll help your baby adjust with less fuss. Its wide mound shape ensures your baby can achieve a secure latch every time, making feedings less frustrating for both you and your baby. Unlike other bottles, the Comotomo Natural Feel baby bottle is made out of a soft, squeezable silicone material that gives your baby the ability to explore and learn through touch during feeding times, while also invoking a sense of comfort and calmness at the same time. Their dual anti-colic vent will decrease the likelihood of colic and spit-up after feedings by letting air go in the bottle and milk come out. Strategically invented to prevent nipple confusion and bottle rejection, Comotomo Natural Feel bottle is a superior product and one of the best choices for assisting your breastfed baby in learning how to drink from a bottle.
2. Tommee Tippee Closer to Nature First Feed Bottle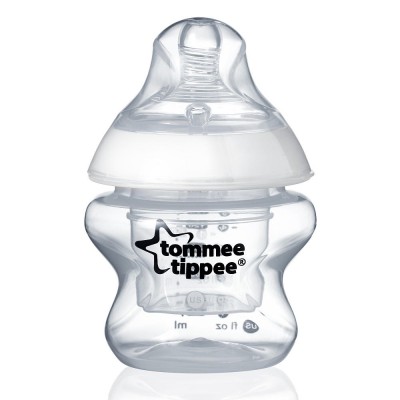 Award-winning and aimed at bringing out your baby's natural sucking action, the Tommee Tippee Closer to Nature First Feed Bottle is guaranteed to take the stress out of alternating between breastfeeding and bottle-feeding. With its larger, soft, natural-feel silicon and extra slow flow nipple, your newborn baby will be able to latch on more securely, providing efficient milk flow and making them feel less fussy during and after feeding times. Tommee Tippee's trademarked sensitive valve reduces the risk of your baby taking in air while feeding, which can lead to colic and gas. The compact shape of the bottle keeps your baby close to you, mimicking the bonding aspect of breastfeeding. When searching for the best product to help your breastfed baby switch to taking milk from a bottle, the Tommee Tippee Closer to Nature First Feed Bottle ranks toward the top of the list with its natural feel that'll make it easier for your baby to adjust.
3. Philips Avent Natural Baby Bottle
If you're looking for an efficient way to combine both breastfeeding and bottle-feeding, the Philips Avent Natural Baby Bottle is one of the best choices for you and your baby. The innovative petal design of the wide breast shaped nipple, which imitates the way a baby latches onto the breast, helps bottle feeding feel more natural to your baby. The slow flow nipple is also soft and flexible, providing a comfortable feel that your baby will enjoy. Your baby will be in better control of their feeding pace, causing them to feel less overwhelmed and reluctant to feed. An innovative twin valve system reduces colic and fussiness by putting air into the bottle instead of in your baby's stomach. Specially designed, the bottle is easy for little hands to hold, encouraging your baby to utilize their eye-hand coordination. Equipped with the features every breastfeeding mom looks for in a bottle, the Philips Avent Natural Bottle is among the best options of bottles for babies who are both breastfed and bottle-fed.
4. Dr. Brown's Natural Flow®

Winner of BabyCenter's Best of 2015 for bottles, Dr. Brown's Natural Flow® is the bottle that more breastfeeding moms prefer. This is because of the slow flow nipples that have a wider base, so that effective latching can be achieved. Paired with its vented design, the silicone nipples allow for a more controlled flow, putting your baby in charge of their own feeding pace so that they are less likely to have tummy troubles or spit-up after feedings. Uncomfortable gas and colic issues are also reduced with Dr. Brown's exceptional bottle design. Additionally, essential vitamins that typically diminish during feedings due to the presence of air in a bottle as well as the bottle's design, are saved with Dr.Brown's unique venting system. The specialized venting system doesn't allow air to interfere with the milk inside the bottle, resulting in fewer bubbles, which protects precious vitamins from being taken out of your milk. The Dr. Brown's Natural Flow bottle is the preferred brand of breastfeeding moms, and one of the best bottles to help breastfed babies transition to bottle-feeding.
5. Born Free Premium Glass Bottles
Crafted to be as natural as possible, Born Free Premium Glass Bottles will ensure that your breastfed baby is receiving the best possible bottle-feeding experience. The patented ActiveFlow Venting Technology is clinically proven to decrease colic, gas, and fussiness by not allowing air to be ingested into your baby's stomach during feedings. Your baby will also have more control over the flow of the milk, reducing the risk of overfeeding and making it easier for them to adjust to eating from a bottle instead of a breast. The natural flow nipples will also help prevent nipple confusion so that you'll still be able to breastfeed your baby without worrying that they will develop a preference for bottles. BPA-free and PVC-free, Born Free Premium Glass Bottles are not only safe for the environment, but they are also safe for your baby. Being made out of glass with bonus silicone sleeve, the bottles keep the milk warm throughout the duration of the feeding, soothing your baby and creating a comfortable environment for them. You and your baby will love these quality-crafted glass bottles that mimic the natural feeling of breastfeeding, making your baby feel calm, comforted, and close to you.
6. The First Years Breastflow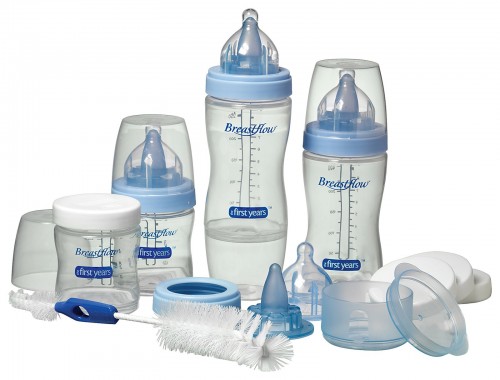 If you're are looking for the best bottle to seamlessly transition your breastfed baby to bottle-feeding, The First Years Breastflow is the perfect choice. Your baby will love the patented 2-in-1 slow flow nipple that lets them be in control of their eating, just as they would be during breastfeeding. Mimicking the motion of a breast, the soft, silicone nipple allows your baby to use the natural sucking technique they were born to do and use to breastfeed. The natural suction and compression of a breast is imitated by the Breastflow nipples, assuring that there won't be any issues with nipple confusion. Moms who use Breastflow bottles with their breastfed babies, love the fact that they experience less spit-up and fussiness after each feeding. BPA and Latex free, Breastflow provides a safe product for your baby that has been proven to be among the best bottles for babies who are breastfed.
7. Mimijumi Baby Feeding Bottle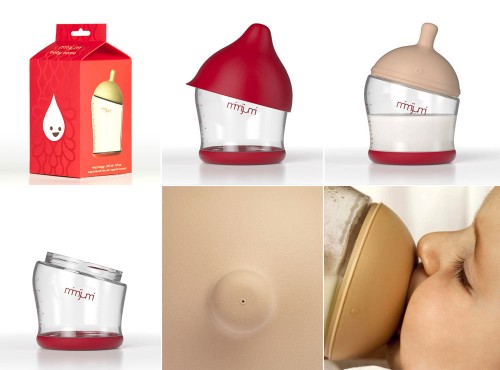 Designed with an ultra wide neck and a slow flow nipple, Mimijumi bottles are the perfect supplement to breastfeeding. Your baby's transition from breast to bottle will happen with ease because of the breast-like feel and function the latex-free nipple provides, guaranteeing a natural latch every time. With its unique texture and skin tone appearance, your baby will find the bottle's nipple to be both appealing and comforting, as if they were drinking from their own mother's breast. The tilted angle of the bottle assures that your baby is in the proper feeding position, the same position that they're in while breastfeeding. The distinctive, integrated venting system protects your baby from developing colic, making for a happier baby and mommy. With Mimijumi, your baby will feel just as close to you as they do when they're nursing, making Mimijumi the best and most preferred bottle by breastfed babies.
8. Lansinoh® mOmma® Bottle with NaturalWave™ Nipple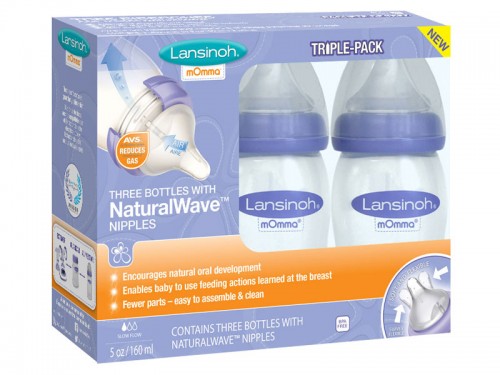 Proven to prevent bottle preference and nipple confusion in babies who are accustomed to being breastfed, the Lansinoh® mOmma® Bottle will help your baby successfully transition from breast to bottle. Paired with an innovated NaturalWave® Nipple, your baby won't have trouble transferring between nursing and bottle-feeding, allowing you to breastfeed your baby for a longer amount of time. The soft, flexible nipple initiates the same natural sucking technique your baby uses at the breast, giving them a sense of familiarity and making feeding times less stressful. The patented Air Ventilation System is specifically designed to limit the amount of air your baby intakes, resulting in fewer issues with gas and spit-up. Free of BPA and BPS, you can rest assured that you're using the safest possible bottle for your baby. Both you and your breastfed baby will love the natural feeding experience Lansinoh mOmma Bottles offers, making it the best bottle you'll ever use.
9. Playtex® Nurser
If you want your breastfed baby to use a bottle that has the closest feeling to nursing, the Playtex Nurser bottle is the best product for you. Equipped with a disposable inner liner, this bottle stands out from all the rest. The liner imitates the motion and function of a breast by gradually collapsing as your baby sucks. Also, your baby will be able to breathe more naturally because of the breastfeeding-like rhythm the inner liner generates. This restricts air from getting into the milk as well as not allowing air to enter your baby's stomach, which results in less colic and gas. Playtex® has prided itself on creating a nipple that is most like that of a mom's. With its deep shape, wide base, and raised texture, The Most Like Mom NaturaLatch Nipple ensures that your baby will have a secure latch every time they go to feed. With its one of a kind features, Playtex® Nurser makes your baby feel like they are feeding straight from the breast, preventing nipple confusion so that you're able to continue breastfeeding your baby for a longer period of time. Playtex® Nurser is definitely one of the best bottles that's made especially for your breastfed baby.
10. Medela Calma®
Medela products are made for breastfeeding moms, so it's no surprise that they have developed the best bottle for assisting your breastfed baby in learning how to bottle-feed while still being able to nurse as well. Calma bottles are designed to be as close to breastfeeding as possible, with an emphasis on emulating the special bond mothers and babies share while nursing. With Calma, your baby will perform the same sucking technique they use when breastfeeding because the nipple only allows the milk to come out if proper suction is used. Also, by instigating the same natural sucking motion, being able to repeatedly switch between nursing and bottle-feeding will be much easier and less stressful for both you and baby. The controlled, slow flow nipple lets your baby set their own pace, making them less prone to overfeeding. The nipple is also vented to properly direct airflow so that your baby doesn't end up with gas or discomfort. BPA-free, Calma® is safe for your baby to use and will keep your breastmilk fresh and pure. Manufactured with the essential features a bottle requires in order for breastfed babies to have the best experience while bottle-feeding, Medela Calma is a trusted product that will make you and your baby feel just as close during bottle-feeding as you do while breastfeeding.
Breastfeeding is one of the best ways a mother can provide nourishment for her baby. However, there comes a time when your baby will need to transfer from breast to bottle so that when you aren't able to nurse, your baby can still receive the nutrients from your breast milk. In order to make this transition as easy as possible, you'll need to determine which bottle is best for both you and your breastfed baby. Finding just the right bottle will help your little one continue to properly grow into a strong and healthy baby.