Whether you are a first time parent or not, you will understand the importance of baby wipes. Essentially, they are for sanitation. However, they are also vital in preventing rashes, infections or applying products without creating irritation. With thousands of baby products on the market, it can be tricky to buy the best baby wipes for sensitive skin. There are products from generic brands, like Johnson's or Pampers, and there are also new products on the market that acknowledge the concern and need for sensitivity, the need for chemical-free bases and the world's need for environmental accountability. Finding the best baby wipes for sensitive skin is an important process. Sensitive skin essentially refers to skin that is easily irritated and can break into rashes, itchiness or blotchiness when exposed to certain chemicals. For a baby with sensitive skin, it is vital that you choose a baby wipe that is unobtrusive as well as effective. 
Almost every brand of wipes will have a variety that consider themselves to be the best baby wipes for sensitive skin. However, as is often the case when it comes to skin care products, some brands are better than others. While paying extortionate fees is not necessary to get good quality, looking at the bottom of the range is equally futile. When looking for a suitable baby wipe for sensitive skin, it is important to evaluate what causes sensitive skin so that you can look out for elements that will fight that. For instance, sensitive skin can be a reaction caused by diapers with a fragrance, so you would look to ensure that your choice of baby wipes does not have chemicals that give fragrance.
Here are the top three baby wipes for sensitive skin that maintain both quality and affordability:
Best Baby Wipes for Sensitive Skin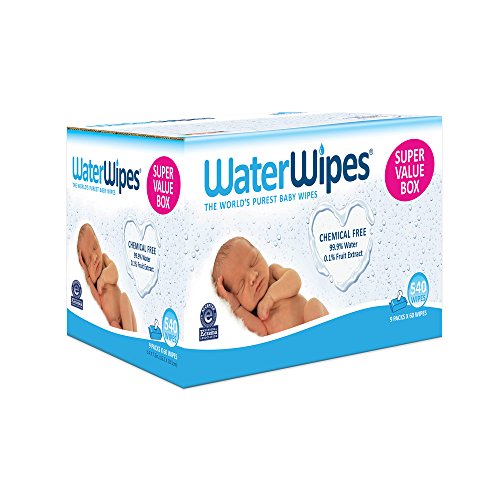 WaterWipes, "the world's purest baby wipes", are 99.9% water. The 0.1% absence of water is replaced by the extract of grapefruit, a natural skin softener.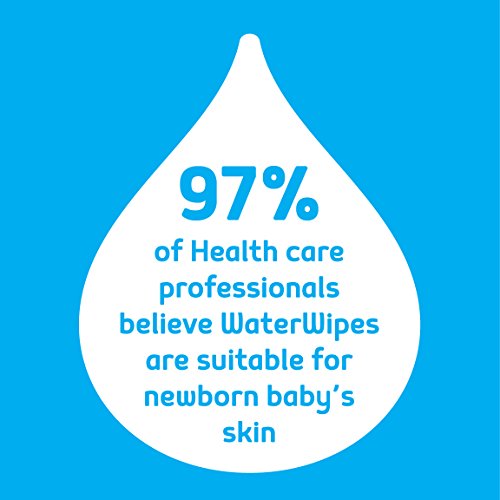 WaterWipes can be used from birth – they provide such a gentle and unobtrusive form of cleanliness that newborns will be safe and free from allergenic reactions. They're easily available in not only stores such as Babies R Us, but also your local Walmart. In fact, it is not even necessary to leave the comfort of your house, as they're available on Amazon.com in a range of sizes. Not only are these some of the best baby wipes that appeal to sensitive skin, but they are also hypoallergenic and therefore do not cause skin irritations, but they also prevent external sources causing irritations. 
Due to the chemical-free, natural nature of these baby wipes, they often come out of the packaging in clumps. This is due to the fact that the product is free from soaps and lubricants that usually aid in dispensation. This may lead to waste, but is manageable considering the health benefits these aspects provide. This product can not only cure skin irritations, which makes it the one of the best baby wipes for sensitive skin. While they will also prevent them from occurring, they cannot be used in place of medication and creams if it so happens that a rash is formed. These wipes cannot be flushed, as their components mean that the wipes are barely biodegradable. They need to be thrown away in proper sanitation facilities. 
While some things, such as flush-ability, may seem like they are problematic, this product is still superior to many other products. This product is one of the most natural set of baby wipes on the market without being plain water. It both cleanses and moisturizes and it is extremely suitable and the best baby wipes for your baby's sensitive skin. 
More information can be found at: https://www.waterwipes.com/us/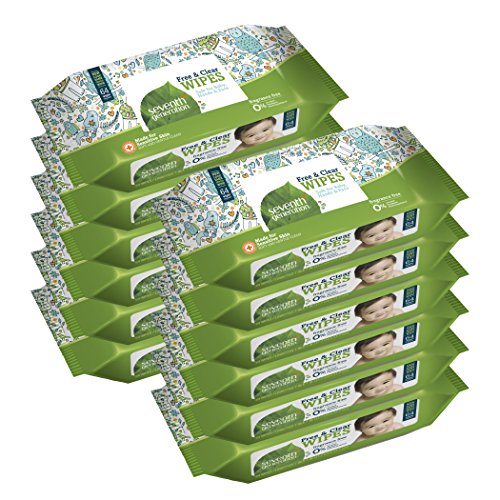 You can purchase Seventh Generation baby wipes in refill packs, making sure that you are environmentally conscious and financially savvy as well as making a choice where you get the best baby wipes for sensitive skin. Considering the fact that baby wipes are not reputed for their biodegradable nature, this is a prime way to make sure you waste as little as possible. 
The Seventh Generation baby wipes for sensitive skin have recently been reformulated, making them some of the best on the market, meaning they not only have new branding and advanced packaging, but there are improved structures of the wipes making them sturdier and softer than ever. They also use 70% less plastic than their previous wipes.
Refill packs make this an extremely affordable option and despite being slightly more expensive than generic brands, these refills mean that it is well worth choosing this natural, chemical-free product that will leave your child with clean, healthy skin. Sensitive skin can be treated with the best baby wipes without waste. Moreover, the flip-top dispenser means that you keep your wipes fresh and avoid waste from accidentally taking more than you need. While a faint smell of cleanliness may radiate off of your baby, it will never be an artificial, perfumed smell generated by chemicals in your wipes. 
This product is not only reasonably priced, but available on multiple platforms, one of which can be found here.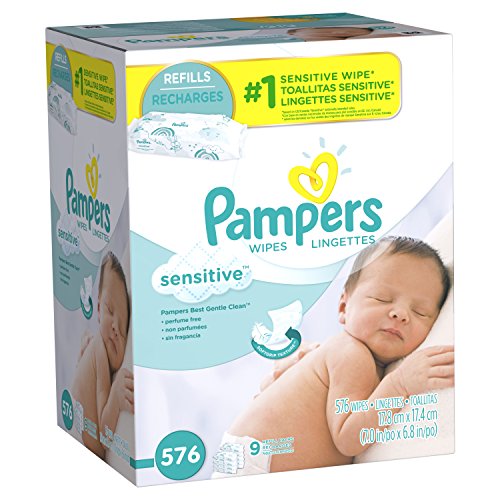 These baby wipes have been clinically proven to be some of the best baby wipes for sensitive skin – they are gentle and mild, meaning that they are not only acceptable for use for wiping and bodily cleansing, but also for the face. It is reassuring to know that you won't find yourself in a situation where you have multiple products for different reasons – one pack of Pampers Sensitive Baby Wipes will work for all. 
Pampers Sensitive Baby Wipes are thick and packed with Soft Grip Texture, meaning that changing time never has to be messy and you won't need more than one wipe for a gentle clean. Despite the fact that these wipes are perfume free, they still smell clean and fresh. Multiple reviews on the product have made comments on the pleasant smell, and act as testimony to why these are some of the best baby wipes on the market for sensitive skin. 
Pampers is a household name when it comes to all products baby related. It is a brand we can trust, knowing that they have been doing what they have been doing since 1961. With their reputation as well as the time on the ground, we can rest assured knowing that Pampers are regularly updating their research and formulas to ensure they are providing the best possible baby wipes for sensitive skin. 
More information can be found at their website. 
An educated buyer is a good buyer, and you need to understand what to look for when buying the best baby wipes for sensitive skin. If you can identify the problematic agents in baby wipes – such as alcohol or fragrance – you can avoid them. In the same way, you will be able to identify the agents that make the product good for your baby, such as a high percentage of water. You will find that we have given you three options of baby wipes for sensitive skin and why you can trust these products, but you should still be able to differentiate these yourself. 
Between WaterWipes, Seventh Generation and Pampers, you are offered reliability, which is easily confirmed by simply perusing the associated websites and the reviews posted on them by satisfied clients and healthy, comfortable babies. You are guaranteed to find the best baby wipes for sensitive skin between these three products.