It's easy to say that bottle warmers aren't must-have items in the baby feeding department. But when baby wakes up in the middle of the night, crying and screaming in hunger, you'd wish there was a faster way to warm your refrigerated milk. The bottle warmer suddenly turns from an unnecessary appliance into a lifesaver.
But choosing the best bottle warmer is definitely not a one-size-fits-all thing, that's why I'm recommending several products that are greatly different from each other in terms of warming method, distinct features and capabilities.
What Are The Types of Bottle Warmers Out There?
The commercially available bottle warmers are mostly electrical appliances, unless it's portable or meant for travel. Here they are with my most meticulously recommended brands:
Steam bottle warmer – This is the most common type among most bottle warmer brands. It has a reservoir that needs to be filled with a set amount of water to produce steam for warming.
Water bath bottle warmer – It is much like the old-fashioned way of submerging a cold bottle over warm water, but the bathwater won't turn cold, and wouldn't need to be replaced every time, so it also saves time.
Travel/portable bottle warmer – The heating methods used by these on-the-go bottle warmers vary widely. Some require pre-heated water, a pre-heated gel pack, or your car's cigarette socket for plugging. There are disposable ones too.
Type
Best Features
Downside
My Recommended Brands
Steam
Warms fast and efficiently
May tend to overheat
Dr. Brown's Deluxe
Born Free Tru-Temp
Water bath
Warms at a more controlled temperature
Warming takes longer than steam
Kiinde Kozii
Maxx Elite "Gentle Warm"
Travel/Portable
Convenience outside the home
Usually has the least efficiency vs electric
Tommee Tippee Travel
My Most Recommended Best Bottle Warmers
My number one criteria for picking best bottle warmers from these brands is SAFETY. For the electric ones I only picked those with auto-shut off. While for travel, I only picked the one that worked fastest.
And here are the best bottle warmers I give my warm round of applause to
Best Bottle Warmer for Glass Bottles
As I've said earlier, it is normal for steam to have a tendency of overheating, but not for precious breast milk or formula. So here are the best steam bottle warmers for glass bottles that will help you make sure it won't happen.
Dr. Brown's Deluxe Bottle Warmer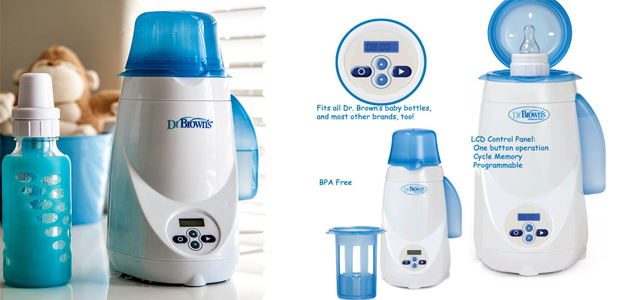 The Dr. Brown's bottle warmer can warm room temperature, refrigerated, and frozen milk in plastic and glass bottles, as well as baby food. It can also sterilize pacifiers and other small items.
The average times for warming milk are: 2 minutes at room temperature, 3-4 minutes if refrigerated, and 7-8 minutess if frozen.
Unique features:
The "user programmable warming cycle" lets you set the time for warming, and this personalized setting is stored in the memory. So you can use the last programmed cycle for the next use if desired, with just one button press.
A digital LCD displays the countdown timer, flashes for 60 seconds and beeps 5 times when warming cycle completes, so it's time to take out the bottle and prevent overheating.
A removable and adjustable basket with reversible riser accommodates tall and short bottles and food containers accordingly for easier reach.
It has a backlight which is very helpful at night!
It auto-shuts off after 10 minutes of non-use, and has an internal sensor that automatically shuts off when the unit overheats or runs out of water.
Pros:
Its flexibility recognizes several factors (temperature of milk, size and type of bottle, personal preference, etc.) for different warmth settings.
You can heat a second bottle right away, and the cycle time would be automatically reduced by a pro-rated amount (unless you override the settings).
Cons:
Extra-wide bottles (Tommee Tippee, Comotomo) don't fit.
You can also check their video review,

Born Free Tru-Temp Bottle Warming System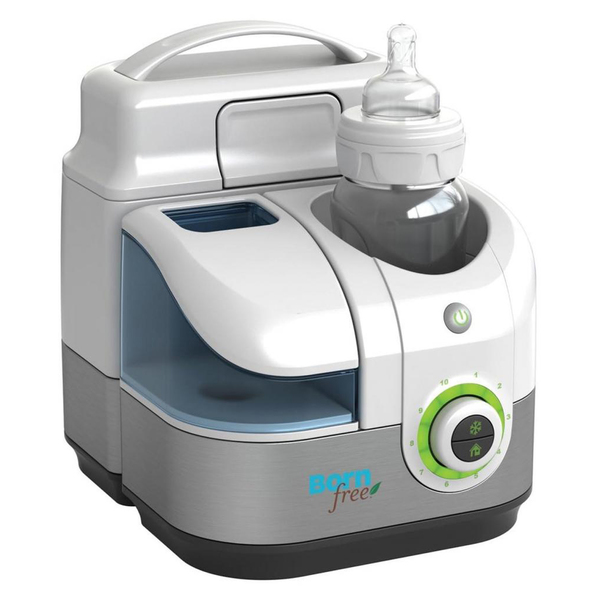 This is a bottle warmer with a cooler. Cool! It accepts room temperature and refrigerated milk in plastic and glass bottles. Born Free does not recommend warming frozen breast milk. Better thaw it in the fridge the night before day of intended use.
Tru-Temp means it has a pre-set warming cycle according to amount of milk and whether it's room temp or refrigerated. The estimated warming time for 5-oz cold milk is 3 minutes, and for 9-oz is 4 to 6 minutes.
Unique features:
It includes a removable insulated cooler that can keep two bottles cool for up to 8 hours.
The Simple Touch Controls lets you select between warming room temperature milk (house icon) or refrigerated milk (snowflake icon).
The Warming Cycle Dial displays numbers where a setting table guide provides the number to select according to the amount of milk (ranging from 2 to 9 oz or 60 to 270 ml) and type of bottle (Born Free Classic, Deco or Glass). Your selection automatically sets the cycle and shuts off once completed.
The large water reservoir only needs to be filled once a day.
Pros:
The handy cooler feature saves time and energy for the suddenly half-awake parent in the middle of the night.
The pre-set warming cycles are perfect (almost faultless) for moms and babies who use Born Free bottles.
Its stainless steel design says a lot about durability, unlike others commonly made of plastic.
Cons:
Set cycles are based on the testing of Born Free bottles only, but you can use this as a starting point, and then adjust with trial and error if you have a different brand of bottle, especially if for breast milk.
Warming a second bottle may have higher temperature, so you need to adjust the dial at lower than actual recommended to reduce cycle time.
Best Water Bath Bottle Warmers
A more conservative alternative to steam warming, but relatively slower, there are very few commendable bath water bottle warmers that work just as great.
Kiinde Kozii Breast Milk Warmer & Bottle Warmer
From the name itself, this product especially emphasizes its function for breast milk because it can safely warm breast milk storage bags and bottle liners!
Based on its warming time chart by type of container, amount and temperature of milk, cycle time ranges at 2.5 to 5 minutes at room temperature, 3.5 to 7.5 minutes refrigerated, and 7 to 12 minutes for frozen.
Unique features:
Its SAFEHeat technology uses uniform convective heating through flowing warm water, which follows the CDC and USDA guidelines for safely thawing and warming breast milk to preserve its nutrients. The water is thermostatically controlled to the same temperature as warm tap water.
Its integrated water reservoir works this way: the water rises up to the level of the bottle, and the excess goes back to the reservoir through the overflow drain. When the timer is up, the water is drained from the chamber and goes back to the reservoir for next use.
The universal warming chamber fits even the widest feeding bottles.
It auto-shuts off and completely removes heat source, thus avoiding risk of overheating.
Pros:
Safety all around: user is totally safe from hot spots, milk is guaranteed nutrient-safe, and plastic bottles and storage bags are safe from dangers of chemical release from overheating.
You can heat a second bottle right away at less time while the water is still warm.
Cons:
Warming time may take longer than what's in the manufacturer's warming time chart.
Maxx Elite "Gentle Warm" Bottle Warmer & Sterilizer
Maxx Elite claims that the warming of the milk and food is through water bath, and the sterilization is through steam. There are different required water amounts for warming milk, warming food, and sterilizing.
Attention: This product requires filtered water for warming and sterilizing.
Unique features:
It has a straightforward control panel: "Gentle Warm" 40°C/104°F, Express Warm 70°C/158°F, Sterilize 100°C/212°F.
The "Steady Warm" feature automatically keeps milk at 40°F, where milk can stay warm for up to 4-6 hrs, so there's no tendency for it to cool again and need to re-warm.
It auto-shuts off when the water runs out, or after sterilization is complete.
Pros:
The "Steady Warm" feature enables you to warm ahead a few hours before the next feeding, so baby's fussiness is quickly avoided.
It's very easy to clean and is not susceptible to mold buildup.
Cons:
Because it's "Gentle Warm", warming can take longer than most steam bottle warmers.
Milk may expire if left at "Steady Warm" longer than maximum hours.
Best Portable Bottle Warmer for Travel
Because most portable bottle warmers take way too long to warm and are actually better temperature retainers rather than efficient warmers, there is one best travel bottle warmer that I highly recommend.
Tommee Tippee Travel Bottle & Food Warmer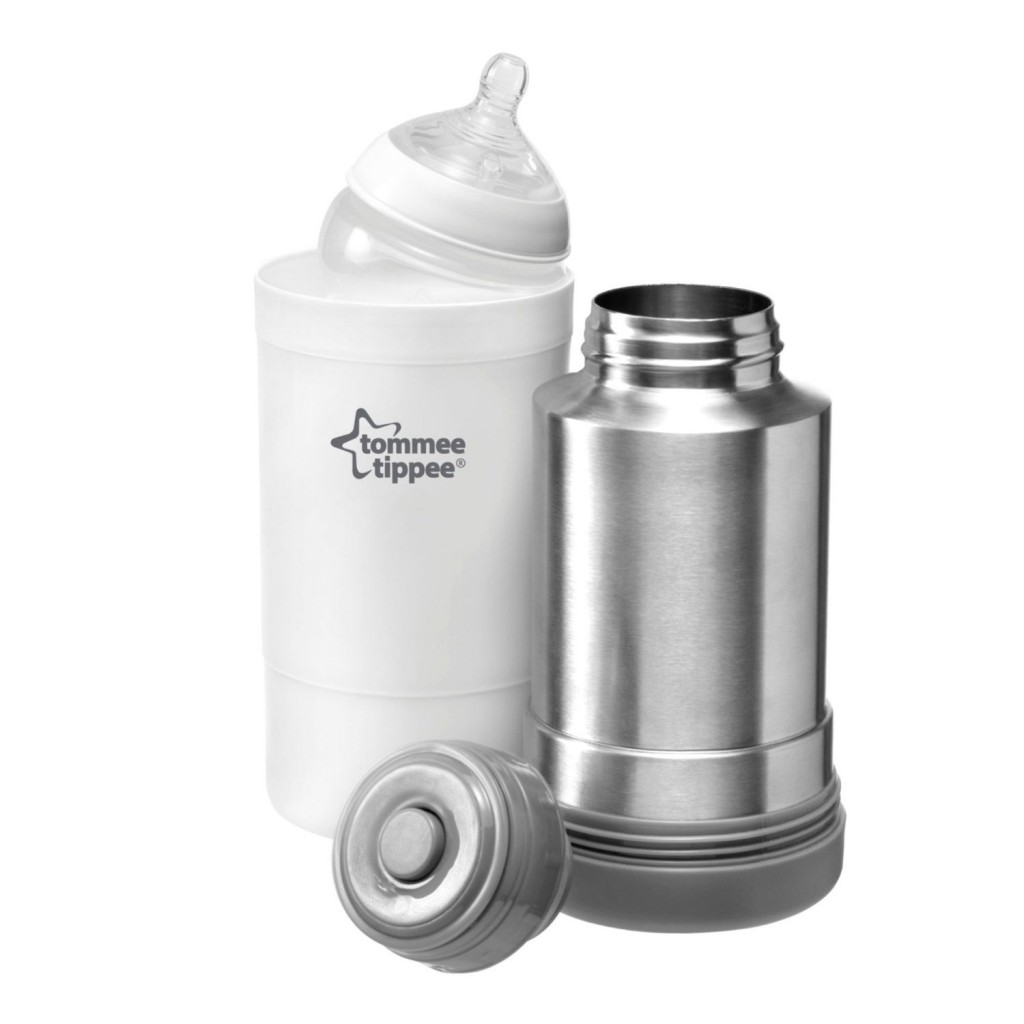 This is the simplest, no-brainer travel bottle warmer that would definitely work for anyone, unless you don't like carrying an extra weight of hot water around. Amazingly, 3 to 5 minutes warming time is a very short time compared to the other portable warmers!
Unique features:
It mainly uses an insulated thermal stainless steel container for holding and maintaining the hot water for future warming. The water stays hot for up to 12 hours.
The container's lid (same full size as the thermal container) is the same flask for pouring the hot water and submerging the milk bottle or food container!
Pros:
Very simple to use, warms acceptably quick enough.
It's Tommee Tippee, so all wide bottles and food containers do fit!
Cons:
Extra caution is needed when handling hot water. Warming is safest in a stable setting.
Warm it up safely!
Keep in mind that no bottle warmer is perfect. Every combination of milk temperature, bottle type, fridge or freezer temperature, and home atmosphere is unique so even if you have the best bottle warmer in your hands, expect some trial-and-error tests on your baby's milk and food in the beginning until you nail that perfect warmth for your little one.
Warm regards!