Babies grow so quickly, it is no secret. One minute you are holding them tightly swaddled in your arms and the next they are wriggling to be free and explore the world around them. When your little one begins developing an interest in the outside world and toys in particular, it is important to foster that interest with products that allow baby to grow and learn, as well as have fun. The beginning stages of walking are no exception. You will want to help your baby explore and grow their walking skills from the time they can stand upright, so you will want to do some research and choose the best baby push walker on the market in order to nurture and develop that new skill. The following push baby walkers are amongst the best available for various reasons, from their learning advantages to their low profile deck and sturdy design for new walkers.
Choose the Best Baby Push Walker
Best Baby Push Walker Comparison
The V-Tech Sit to Stand Learning Walker is reviews as one of the best baby push walkers amongst parents.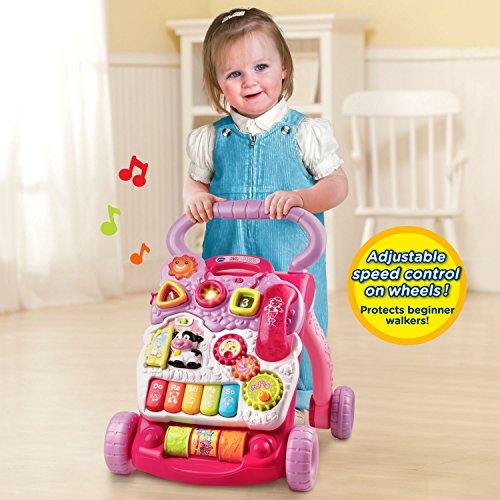 It is a multi-stage walker which is perfect for babies from 9 months to 3 years of age. The front panel is removable so baby can sit on the floor and play with the activities when they are not yet mobile or standing. As baby gains new skills, they can push the entire walker in front of them. The walker is very stable and sturdy, made of durable plastic. There are piano keys, a phone handset, colored spinning rollers, shape sorters that light up and over 70 sing-along songs for babies and toddlers alike. There is a tension adjuster on the rear wheels to slow down the walker for babies who need a little extra support in the beginning stages and also to operate easier on hardwood floors. Because there are varying stages to this toy, it really stretches your dollar, which is always important when you have children. This is available in both orange and lavender colors and retails around $40.
The Fisher Price 3-in-1 Bounce, Stride and Ride Elephant is perfect for parents on the hunt for the best baby push walker out there.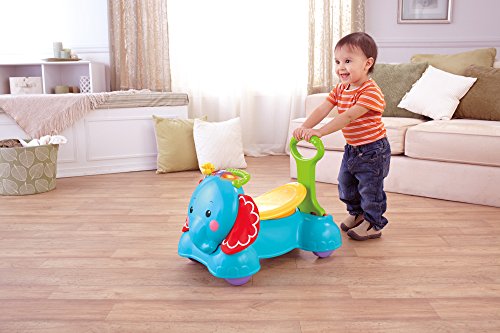 It will get them a lot of bang for their buck, so to speak. This push walker is recommended for babies aged 9 months to 3 years. In the beginning stages, baby can simply sit on the elephant and bounce. Their feet will safely and easily reach the floor and it will encourage your baby to attempt to "scoot".  As they master the skill of the "scoot" they can push the baby walker using the rear handle. Baby will love pushing the elephant all over the house. The elephant also acts as a ride on toy for the older toddlers who just want to be on the move. There are over 30 songs to sing along with, light up buttons and sounds and phrases which will keep baby's attention. This baby push walker is great for both fine and gross motor skill development. The one downside is that baby may have a difficult time pushing it on high pile carpet.
If being eco-friendly is of concern to you as a parent, then the Hape Eco Push and Walk Activity Wagon is a great option as one of the best baby push walkers on the market.
It is recommended for babies 10 months and up and features non-toxic, completely recycled materials. The base is very low to the ground, allowing a lot of stability for new walkers. Babies will love filling the shallow wagon with beloved toys and pushing them around as they hone their walking skills. The paint used is water-based and totally non-toxic. Surprisingly, it is only about 4lbs. despite being made of wood. Babies will learn their 1, 2, 3's and colors with this push walker as well. There are spinning beads along the side of the wagon deck with nature inspired prints, to enhance fine motor skills. The handle grip is thin enough for tiny little hands to get a firm grip. One downside is that it may be a little bit too light without any toys in the wagon area and may get away from babies who need a slower pace. It retails for around $100 but you can always find a good deal on Amazon.
Melissa & Doug are creators of long-time parent favorite educational toys and activities for children. Creating one of the best baby push walkers is no exception to their line of products. The Melissa & Doug Deluxe Chomp & Clack Alligator Push Toy is fun, and very sturdy.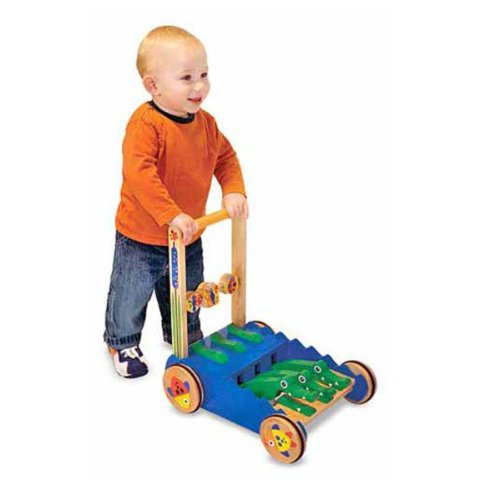 The recommended age is for one year and up, however younger babies who have already started standing could use this with ease. The wheels feature a rubber stripping to slow the motion down especially on hardwood floors, but won't leave unsightly markings behind. The alligators chomp and clack as baby pushes the walker, giving them initiative to push on farther. This walker will teach baby not only gross motor skills but also cause and effect. The quality construction of this walker means it will last for years to come, much as to be expected from Melissa & Doug products. It is made of all non-toxic wood and paints, making it safe for your little one and weighing around 9lbs, this baby push walker will hold your little one upright. This baby push walker retails for around $40, which is very affordable for the quality you will receive in return.
Looking for the best baby push walker out there doesn't have to be a daunting task. It is always best to talk to other moms and dads to see what they have been using and what works. There are always little details we parents may not think of when we are out shopping, so to have parental reviews is invaluable. Everyone wants the best for their baby and to enhance their development and growth, so find a best baby push walker that is amongst the best should include looking at safety first, then stability and longevity, other learning functions that are available with the walker and also ensure that your baby is the correct height to use whichever walker you choose.