The swaddle is the extension of the womb in baby's post-delivery world. And there are so many kinds of swaddles in the market but not all of them work the same way for every baby, and for every parent or caregiver who does the swaddling. So let me guide you through the different kinds of swaddling products according to its material, way of use, their features, and pros and cons, to ultimately help you decide on the best swaddle blankets for your hands and for your baby.
What Fabric/Material are Swaddles Made of?
Swaddles are usually made of cotton fabrics that are soft, gentle, lightweight, and not overly thick to make wrapping and tucking easier. Below are the most common cotton variations:
Muslin – a lightweight plain woven cotton, it is breathable and supposedly very soft if made for swaddling. Its woven texture enables it to grip in itself when tucked in for swaddling. It can keep baby cool in the summer and prevent overheating. But because the best muslin swaddle blankets are commonly huge, it can wrap baby in several layers to keep him warm in colder temperatures.
Flannel – a plain weave cotton fabric, it is light to medium-weight and considerably soft. Hospital receiving blankets are also commonly made of flannel. Swaddling with flannel cloth is suitable moderate temperatures, when it is not too hot.
Stretch/semi stretch cotton – also light to medium-weight and soft, most stretch cotton swaddles are on the thicker side (i.e. slightly thicker than a casual summer shirt) for a balance of snug and durability. It works well in an air-conditioned room. Many brands of specialized, "winged" easy swaddles are made of this kind of stretch cotton.
Others – there are other fabrics such as polyester, knitted wool, microfleece, eco-friendly bamboo, as well as their organic variants.
Types of Swaddles
I grouped the swaddles into three common types, with a straightforward comparison table, and a sneak peek of my tried-and-tested recommended brands.
Receiving blanket – the traditional way of swaddling uses these square or rectangular blankets, and is usually what hospitals use for newborns. These are multi-purpose, where it can be used as a changing mat, burp cloth, nursing cover, etc.
Specialized, pre-made swaddler – compared to traditional swaddle blankets, these "ready-to-wear" swaddles are supposedly easier to use, and are made in different sizes suitable for each weight or age range (preemie size included). Some pre-made swaddles use zippers, adjustable snaps, velcro, or just a longer "wing" for wrapping around securely.
Swaddle blanket – similar to the receiving blanket, most of these are usually square and larger, where the growing infant can ideally use it for a longer period. These are also just as versatile for many uses beyond baby's swaddling stage.
| | Best Features | Downside | My Recommended Brands |
| --- | --- | --- | --- |
| Receiving Blanket | Very versatile | May be too small after newborn age | SwaddleDesigns (this is large! unlike the traditional ones) |
| Pre-made Swaddle | Easy to use, time-saving | Need to use next bigger size when infant outgrows it | SwaddleMe, Miracle Blanket, Halo Sleepsack Swaddle |
| Swaddle Blanket | Very versatile, grows with baby | May be too big for other uses (if that's a prob at all) | Aden + Anais, Margaux & May, CuddleBug, My Tiny Tot |
More About the Most Recommended Swaddles And Best Swaddle Blankets!
As I have recommended earlier, here they are in greater detail, with their unique features and the pros and cons that come with them.
Best Receiving Blankets for Swaddling
There's only one leading in this category so far, apparently because of its generous size as compared to the usual hospital receiving blankets. And it's the…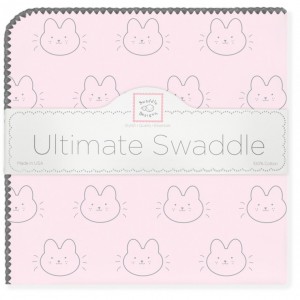 Made of baby soft, lightweight cotton flannel, the SwaddleDesigns Ultimate Swaddle is a wonderful upgrade to your usual hospital receiving blanket.
Unique features:
Compared to ordinary hospital receiving blankets (typically 30 x 30 inches), SwaddleDesigns measures a generous 42" square!
The illustrated 1-2-3 Swaddle instructional label is very helpful for swaddling beginners.
The swaddles can be personalized with name embroidery!
Pros:
Its flannel material easily makes this receiving blanket for swaddling widely acceptable to orthodox swaddlers.
The larger size makes its usefulness longer for growing infants, and for many other purposes.
Cons:
Design is one-sided (minor downside perhaps).
May not be ideal for hot days, but you can adjust via baby's clothing.
Best Pre-Made Swaddles
In no particular order, this list is an interesting one because each of them has a strikingly unique feature. The unique feature that matters to you most would help you choose the best pre-made swaddle for you.
Made of soft cotton knit, the Miracle Blanket swaddle has been known to be the ultimate solution to notorious swaddle breakouts. Here's why.
Unique features:
The triple patented arm flaps, which are inner wing layers, keep baby's arms down.
Its simple design uses no fastening, unlike with others (velcro, zipper, snap buttons, knots, etc.). Just pure fabric with one longer side for wrapping around.
It has a leg pouch for easy diaper change.
Pros:
The arm flaps effectively prevent babies from breaking out of the swaddle.
The fabric may feel more comfortable for babies because it doesn't use any fastening.
Cons:
Some parents may feel like it's a straitjacket as baby's arms are confined on the sides by the arm flaps. Parents may opt not to use the flaps, but baby may tend to break out.
The multiple layers caused by wrapping the long wing around may be too hot for warm temperatures.
l personally call SwaddleMe the ultimate lazy swaddle! The fabric is soft cotton knit, which is stretchy enough for adjusting with the velcro accordingly. It's also available in velboa, microfleece, and organic cotton.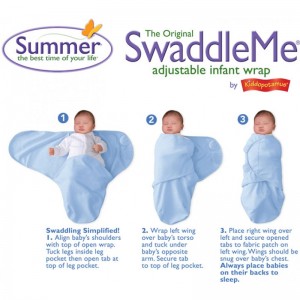 Unique features:
It uses adjustable hook-and-loop closures (velcro) to perfect baby's snugly fit.
There's a harness slit that is compatible to most car seats and sleepers, and a leg pouch for easy diaper change.
Sizes available are Preemie, Small (7-14 lbs), and Large (14-18 lbs or until baby rolls over).
Pros:
Ultimately time-saving. It's the quickest swaddler that I know of.
When not in use on the car seat, I find the harness slit useful for peeking through the diaper!
Cons:
You'll need to get the next bigger size when baby outgrows the smaller one.
For smaller babies, parents might wish the velcro landing area could be wider.
Another smart choice, the Halo Sleepsack Swaddle is designed for safely transitioning baby from swaddle to sleep sack. That's from baby's infancy to the time he starts rolling over. Fabrics available are soft cotton and microfleece polyester.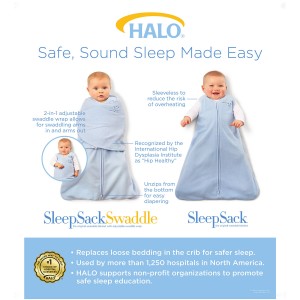 Unique features:
A sleep sack designed with swaddle wings around it, it provides for the 3-way adjustable swaddle: (1) arms in, (2) hands-to-face for self-soothing, and (3) arms out like in a real sleep sack.
The sleeveless arm hole of the sleep sack prevents overheating.
The zip-down feature (inverted zipper, unzip from bottom up) enables easy diaper change.
It is certified "Hip Healthy" by the International Hip Dysplasia Institute, because of the sack's generous room for moving baby's legs freely.
Pros:
It grows with baby, while promoting safe sleep from swaddle to conversion into sleep sack.
It's great value for money for having a single product with multiple function.
Cons:
Its main purpose is for transitioning, and not meant to be a sleep sack for when baby grows older. The size may no longer fit him by that time, so you would have to get a 'real' sleep sack of bigger size.
Best Muslin Swaddle Blankets
This list consists of best swaddle blankets made of muslin, which is the most favoured material for swaddle blankets. In fact, almost all swaddle brands (including the brands I mentioned earlier) have their own muslin line too.
The best muslin swaddle blankets possess that luxuriously soft, lightweight, breathable, and ever so versatile quality.
But not all muslin fabrics are created equal. Some are super soft, while some are somewhat stiff. So here I've picked the truly softest and durable, as well as the prettiest, and simply the best out there.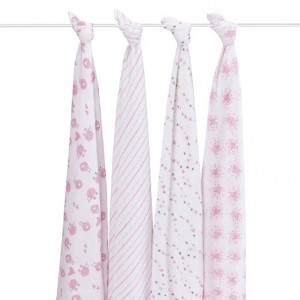 The crowd favorite in all baby things muslin, it's no surprise that this bestselling brand of muslin swaddle blankets is on my list, also is one of the best swaddle blankets. Aden + Anais offers two different sizes: the regular one at a large 44" x 44", and the classic at a huge 47" square. The fabric is also available in classic muslin, silky soft muslin (bamboo rayon), and organic muslin. A+A has so many designs to choose from, it's really hard to pick a few.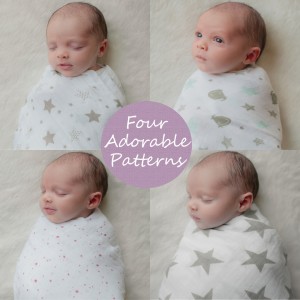 Made by a wrap baby carrier specialist, the CuddleBug Muslin Swaddle Blanket is a welcome addition to their wrapping products. The best thing about CuddleBug muslin is that their designs are unisex! As of now, they have a limited number of designs, but the unisex feature and 47" x 47" size is certainly quality over quantity.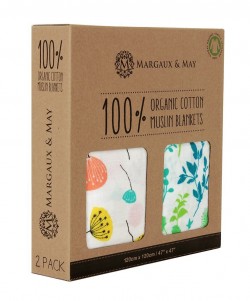 If you ask me about the best contender for Aden + Anais, I'd say this would be it! What I like most about Margaux & May is their vivid designs, which is actually what cool moms would personally be attracted to! Also 47" square huge, the beautiful designs make great props for photoshoots. For me, M & M has the most stylish organic muslin swaddle blankets because they instantly make a bold statement.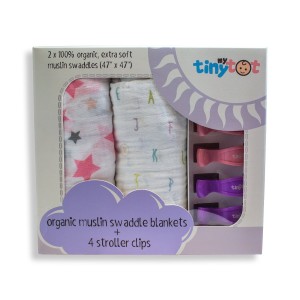 Also organic, and huge at 47 by 47 inches. I picked this because of its super useful clips for securing the swaddle blanket when used as stroller or carseat canopy. Each pack of My Tiny Tot includes two swaddle blankets and two generous pairs of clips.
Swaddle on, baby!
Have you made your choice yet, in terms of what material and type of swaddle you'd like? I know it's tough to choose just one, so I recommend having at least two, for when one is in the wash. It would also be great if they are of the different types (ex. one swaddle blanket and one pre-made swaddle).
If you love to have different designs, and know lots of creative ways to use them, or you're just not sure about your laundry schedule, having more than two would be really good too! I hope this guide can help you to find the best swaddle blankets for your baby and you!
*If your baby is around 2-3 months, you might need to know when to stop swaddling baby.
Related Buying Guides
Do you love this guide? Check out our other awesome guides below!
Best Bottle Warmers Buying Guide
Best Bottles for Breastfed Babies Buying Guide