Whether you are headed back to work and wish to pump and store breast milk for your baby, or if you have been pumping and storing since day one, you will need the proper storage methods to keep your breast milk safe. If you have chosen to use breast milk storage bags, you will quickly discover there so many to choose from. Ultimately, you will want to know which the best breast milk storage bags to use are in order to fulfill your needs.
Why Use Breast Milk Storage Bags?
Even though there are a few options for breast milk storage, using storage bags is a very convenient, safe way to keep your breast milk for baby at a later time. When looking for the best breast milk storage bags, you should consider your specific needs. Are you looking to store excess milk? This means you want a bag that will withhold the freezer temperatures for longer periods. Are you looking for ease and effectiveness of thawing? Storage bags easily thaw out and are simple to use. In fact, some bags can even be connected directly to your pump. Are you hoping to save space? Storage bags can often lay flat, unlike bulky containers which take up space in both your refrigerator and freezer. It is important to note that you should only ever use breast milk storage bags, never plain plastic bags or household bags. Breast milk storage bags are pre-sterilized and designed to retain the nutrients found in mother's milk without leaching chemicals from the plastic into the breast milk. The added convenience of being able to just toss the bag after use instead of washing and sterilizing like a container is also a big plus for many busy moms.
How to Use Breast Milk Storage Bags?
The first and most important step is to always wash your hands with soap and water before handling your storage bags. This ensures everything remains sterile and safe. Some of the best breast milk storage bags will make it very easy for moms to use and will not leak, and will keep mothers milk in its natural nutritious state. In most cases, breast milk will need to be pumped into a separate container and then poured into the storage bags. There are some handy storage bags, however, which can attach directly to a breast pump using a special adapter, sold separately in most cases. The bags will have a seal system to lock in the milk safely and then the bag can be stored in either the fridge or freezer depending upon how soon the breast milk will be used. If put in the freezer, thawing breast milk in a storage bag is much quicker than in a container. Simply transfer the storage bag to the fridge, preferably overnight for a slower thaw, then run the storage bag under lukewarm water. Done! Ready to pour into a bottle for baby to feed. Some storage bags allow for direct thawing from the freezer simply by running the bag under warm water. It is best to check with the individual storage bag instructions upon purchase.
Best Breast Milk Storage Bags to Consider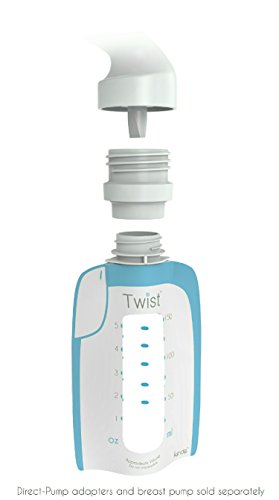 This all round, convenient pouch definitely tops the choices for best breast milk storage bags. It is so much more than just storage solution. With the purchase of the Kiinde twist adapter, for around $7, this pouch connects directly to almost all major manufacturers breast pumps. They will hold up to six ounces of breast milk and feature a twist top, preventing accidental leakage or spilling. The pouch itself is made of a thick, durable plastic which rivals that of a bottle but without the added bulk. The tops and pouches are both single use but fully recyclable, reducing their environmental footprint while still providing great convenience. Reusable Kiinde nipples are sold separately, which attach directly to the pouch for quick and easy transfer from freezer storage, to thawing, to feeding and then disposal. No bottles necessary at all. Considering the amazing functions of this storage pouch, they are still affordable, costing about $15 for a 40 pack.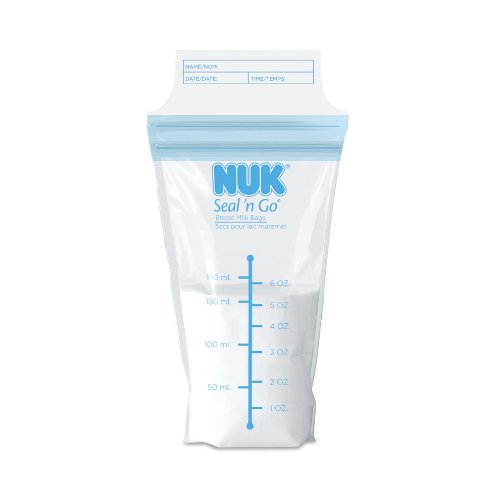 This storage bag has been a long-time favorite of moms when considering which the best breast milk storage bags are. Not only are these bags extremely affordable, at just over $14 for 100, they are also easy to use and very reliable. Each bag features a double zippered seal to ensure they live up to their 100% leak-free guarantee. The self-standing feature of these storage bags makes pouring your precious breast milk much easier and lessens the chance of spilling it in the process. On top of the bag is a label for keeping track of the date and time the breast milk was pumped, which will ensure the breast milk is used before it loses key nutrients. Speaking of key nutrients, breast milk will hold on to all those important vitamins and minerals which are naturally found in the milk since the double zipper seal prevents air from getting in.  Their durability, affordability and leak-free guarantee earn them a spot amongst the best breast milk storage bags available.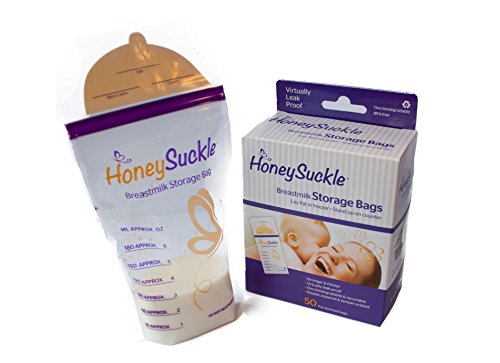 The key feature of these storage bags is that they are completely bio-degradable, which many moms will appreciate in keeping more plastic and garbage from our landfill sites. Many moms claim these are amongst the best breast milk storage bags they have ever used, being that they are sturdy, durable and virtually leak-proof. They feature a double zipper seal at the top to keep breast milk in and air out, as well as a handy label space for keeping track of the date the milk was pumped. To pour the breast milk into the Honeysuckle bag, simply stand it up on the counter since it has a self-standing feature. They will easily go into the freezer and lay flat to take up as little space as possible, making it easier to store many bags at once. These storage bags will easily hold up to six ounces of breast milk in each and can be purchased for around $20 per 100. There is an adapter available, made by Honeysuckle, which fits on to the bag and to most breast pumps in order to pump directly into the bag should moms wish to go that route.
Lansinoh has been a trusted brand in baby and mother care for many years and their breast milk storage bags live up to their expectations. These are definitely worth considering one of the best breast milk storage bags on the market since they are guaranteed BPA and BPS-free and offer a durability unlike any others. The sides of these bags are double reinforced to prevent precious breast milk from leaking and being wasted. Their double click 'n' secure seal system is patented and boasts having the tightest, most secure seal on the market. These bags will store up to six ounces of milk and lay flat in the freezer for easy storage and less space. If they are to be stored in the refrigerator, they will stand up freely to fit right in on one of the shelves. Once the breast milk is ready to use, the handy label tab on the top can be torn away and there is a pour spout to help pour the breast milk safely, spill-free into a bottle for feeding. If moms are using a Medela breast pump, there is an adapter available for purchase which will allow them to pump directly into the bag to save the added step of pumping into a separate container and then filling the storage bag. The Lansinoh Breast milk bags are affordable at around $15 for 100.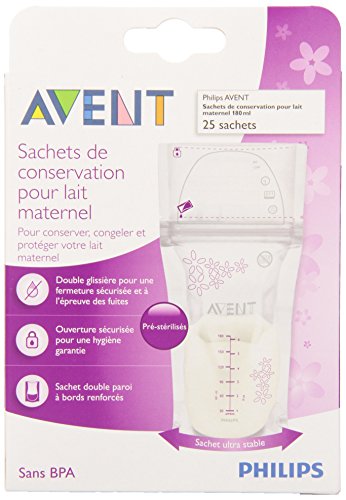 AVENT is a popular brand name in the baby product market and many people trust and enjoy their products. These bags have some great features which rate them up there with some of the best breast milk storage bags available to moms. They boast reinforced side seams to protect from breast milk leaks and loss, and have a durable body which will stand up on its own on the counter or in the fridge. The label area is large and easy to write on, and can be torn off with care once ready to use the breast milk. The double zipper seal will keep the breast milk airtight and lock in the key nutrients found in mother's milk. They can be stored in the freezer as well and lay almost flat for easy storage. One of the best features is their price point since they can be purchased for just under $10 for a 50 count box.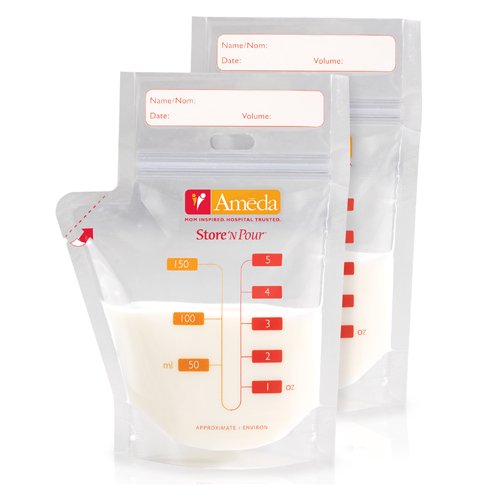 These breast milk storage bags are the best at keeping breast milk from spilling upon transfer. Their unique feature is a built-in separate spout to pour the stored breast milk into bottles without losing a drop. They are available in a kit with 20 bags and an adapter, which will fit most breast pumps as well, not just the Ameda pumps.  Transferring breast milk from a collection container to the Ameda bags is easy, since the opening of the bag is very wide, reducing spillage. They will hold up to five ounces of breast milk and lay flat while being stored away to save space in your freezer. The plastic body is multi-ply, making it durable and sturdy enough to not become easily punctured in the freezer or fridge like some other products.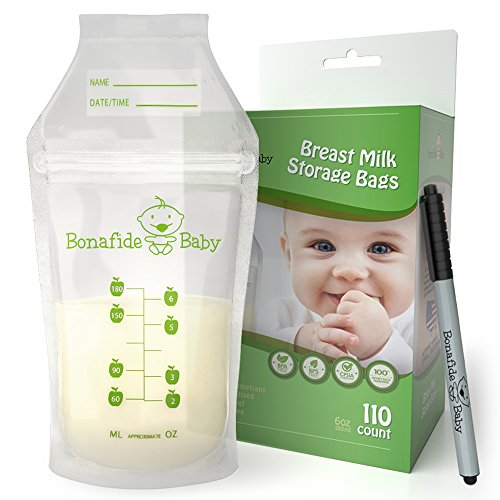 These storage bags come with a 100% money back guarantee if customers are not completely satisfied, which gives moms added peace of mind. Like some of the other best breast milk storage bags, these feature a double zippered seal for secure and leak-free storage. An added feature of these bags is the upgraded freezer burn protection so that milk can be stored longer in the freezer than other bags. In keeping with a concern for health, Bonafide Breast milk Storage Bags are completely BPA, BPS and latex free. They come in a box of 110 bags including a marker to use for labeling the upper portion of the bag with provided space. The label section has a perforated tab to tear away once the breast milk is to be used. This helps keep a clean edge for pouring into the baby's bottle and reduces the chance of spilling the precious milk. For 110 bags and a marker, these retail for around $20.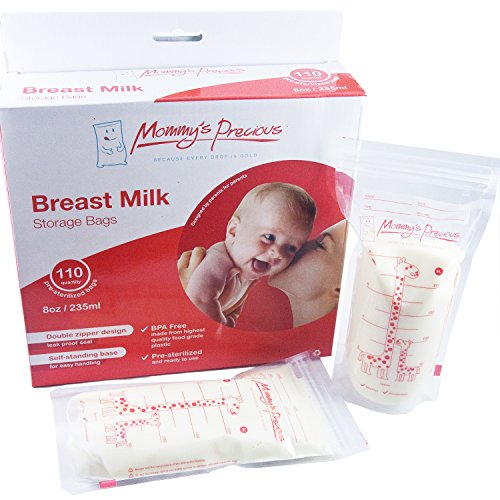 These bags were designed by moms for moms, which means they are a great choice among the best breast milk storage bags on the market. They have an easy to tear perforated label top which leaves a clean, straight edge – perfect for transferring the milk to bottles. Moms will love being able to store more of their breast milk with these bags as well, since each bag will hold up to eight ounces each. Even though they have a larger capacity, they still lay flat in the freezer for simple, space-saving storage. The gusseted bottom mean these bags are virtually leak-free and will stand freely for ease of use and the double zip seal keeps breast milk locked in airtight. On a health conscious note, Mommy's Precious bags are BPA free as well as Phthalate free and latex free, keeping breast milk at its purest for baby's nutritional needs. The company offers a 100% money back guarantee to any customer who is not completely happy with their purchase of these bags. Each box comes with 110 storage bags for around $20.
Choosing the best breast milk storage bags out there may seem a little overwhelming at first, since the market is flooded with many different brands and sizes. It is best to explore what exactly is expected and needed for each individual mom and their baby before deciding on a bag that is right for their use. If moms wish to pump directly to a storage bag, then they should explore only bags with that as an option either with our without an adapter. If longer periods of storage in the freezer are going to be necessary, it is good to consider the thickness and durability of the plastic to avoid freezer burn and accidental puncturing while in the freezer. Perhaps an all-round, all-purpose bag is what is needed, then the options are vast but moms can't go wrong with any of these breast milk storage bags listed above since they offer high quality, reasonable prices and ease of use.
If you are using the bottles to warm up thawed breast milk, you can check the list of the best bottle warmers here.