One of the greatest joys in life is becoming a parent because everything you thought you knew about the world suddenly changes, and your eyes are opened as if for the first time. One thing that will open your eyes is the amount of baby products that are on the market, including the best baby bottle sterilizer! It can be incredibly overwhelming, and you will likely require some assistance to figure out what is worth putting on your baby registry and what is a waste of money. Baby Bottle Sterilizer is definitely a "must-have" item! Infants are not born with a strong immune system that is ready to battle all the germs of the world. Bottle sterilizers are specially designed to clean and sterilize your baby's bottles which keep your baby safe and healthy. Here is how to sterilize baby bottles. These products are so important that various manufacturers sell them. Below are the top 3 bottle sterilizers that are on the market today.
Comparing The Best Baby Bottle Sterilizer
List of Best Baby Bottle Sterilizer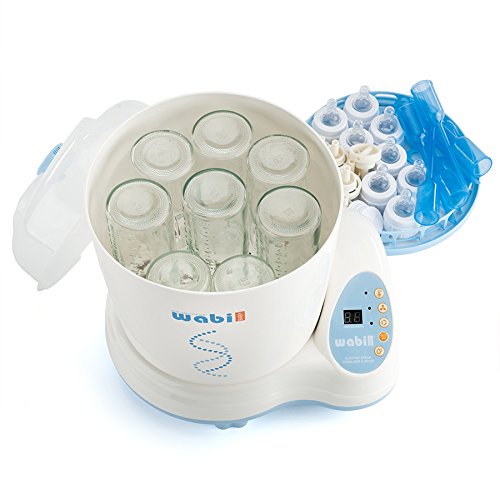 This could be the best baby bottle sterilizer as it is not only a sterilizer but, it is also a dryer! What does that mean? First-time parents may not quite understand what the big deal is about having a sterilizer that also dries the bottles. Steam sterilizers, like the Wabi brand, uses heated steam to thoroughly clean and sterilize the bottle making it safe for your baby to use. Once the steaming process is over, the parent is then required to dry the bottles by hand with a "clean" towel or let the bottles air dry. Neither option is guaranteed to be safe for baby. Additionally, drying the bottles yourself or air drying them takes time and effort that fatigued parents simply don't have. The drying feature of the Wabi sterilizer reduces the risk of bacteria being transmitted from "clean" towels. The Wabi brand sterilizer uses hot steam to sterilize the bottles and accessories, hot air for drying and negative ions for deodorizing. This combination of processes ensures that your baby is using clean items, every time. As long as the lid remains closed, the contents inside will remain sterile for up to 24 hours after completion. The Wabi brand sterilizer and dryer can fit up to 8 standard size bottles as well as extra nipples, pacifiers, and teething toys that can be placed in the storage racks. This baby bottle sterilizer can take up to 60 minutes to thoroughly complete the steaming and drying process.
Pros:
Sanitizes
Cleans
Stores extra items for up to 24 hours
Dries
Simple buttons
Easy to use
Completes process in 60 minutes or less
Can hold up to 8 bottles
Can hold up to 6 nipples with attachments
Does not require chemicals
BPA, phthalate, and PVC free
No after odor or residue
Cons:
Space hog (can take up quite a bit of counter space)
May need descaling with vinegar or the Wabi brand descaler to remove mineral build-up
Expensive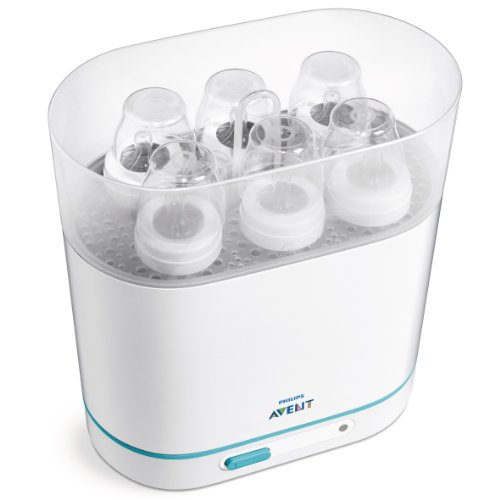 The Philips Avent Electric 3-in-1 Steam Sanitizer could also be the best bottle sterilizer on your baby registry. The 3-in-1 design is perfect for families with little counter space to spare or for compact kitchens. This bottle sterilizer includes three different sizes which form one full sized sanitizer. This design makes organizing your baby's items a snap! The larger portion of the sterilizer can hold up to six, Avent brand baby bottles (11oz.). The other two compartments are perfect for nipples, attachments, pacifiers, breast pump parts, and teething toys. The Philips Avent 3-in-1 sanitizer is easy to load and unload as a result of the organization, as well. This item is said to kill 99.9% of harmful bacteria and germs found on baby's items in just 6 minutes! The product uses natural steam, without the use of chemicals, to completely protect baby bottles and other items. If the lid is left unopened, the contents inside the sanitizer will remain clean and sanitary for up to 24 hours after process completion. Finally, the Philips Avent Electric 3-in-1 Steam Sanitizer comes equipped with an excellent auto-shut off feature for your peace of mind!
Pros:
Convenient size
Easy to use
Washes easily
Durable
BPA free
Doesn't take up space
No chemicals needed
More budget-friendly
Auto-shut off feature
Cons:
Possible greasy film residue on items after cycle completes
Items may have an odor after cycle ends
Rust/stains may develop over time without proper machine care
Doesn't dry the items for you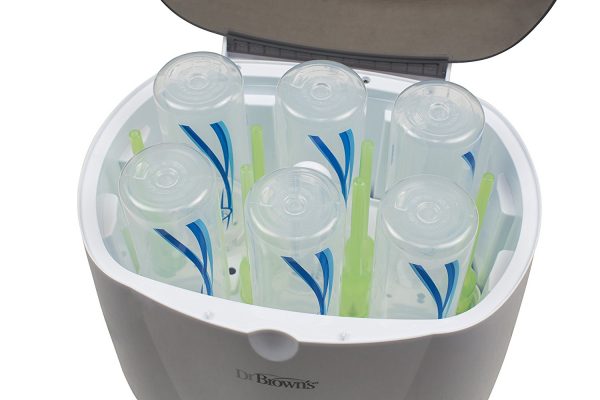 Last but not least, this might be the best baby bottle sterilizer as it is made by the Dr. Brown's Company. Products by this company are generally high-quality and are worth the extra money for them. They are also highly regarded amongst parents everywhere. This steam sterilizer for baby bottles is easy to use with its electronic controls, cycle indicators, and auto-shut off feature. Dr. Brown's bottle sterilizer has a removable tray that helps to position the bottles in place for optimum sterilization. There is also a built-in tray that is perfect for smaller items such as teething toys, pacifiers, and nipples. This product also includes a pair of tongs and a measuring cup to help make use even simpler. Finally, the Dr. Brown's Sterilizer is also BPA free and can come in blue, gray, and white designs.
Pros:
Easy to use
Portable
Compact
Fast heating
Durable
BPA free
Auto-shut off feature
Cons:
Hard to clean
Not dry enough
These three are the best baby bottle sterilizers because each has something unique to offer that the others do not. The Wabi brand sterilizer will dry the contents for you, saving you time and energy. The Philips Avent brand sterilizer offers a faster cycle with three different size compartments to better organize your items. Finally, Dr. Brown's brand is compact and perfectly designed for Dr. Brown's baby bottles. It is up to you to choose which one will best suit your family dynamic and your needs!