If you are newbie parents, you might not know what baby jumperoo is. Let me explain to you what it is. A jumperoo is a combination of an entertainment chair and jumping device all together into one for baby from 4 months to walking age. A good jumperoo can help your baby achieve important developmental milestones. Rock, spin and jump actions can provide your baby with plenty of exercise to strengthen legs, back and neck muscles. The jumperoo can also amuse your baby while you are taking a break from continuously holding him or her. If you are looking for the best jumperoo for your baby or completely new to the term, keep reading to know all about a jumperoo and how to choose the best jumperoo for your baby.
Why does your baby need a jumperoo?
This is a combination of an amusing seat with the fun jumping unit that your kid is going to enjoy on his own. You don't need an extra distraction or another toy with a jumperoo to keep him happy. With all the fun attachment in a jumperoo, your little one can spend hours in it without getting bored.
Parents decide this is a good buy because their kids get enough exercise with it which will help to develop their back, neck and legs muscles. Also, as research says, active babies have a better sleep at night, a good jumperoo will ensure that for your baby.
When is your kid ready for jumperoo?
Jumperoos are designed for very young kids. But you need to wait until your baby can hold his head straight without any kind of support. If he can keep his head straight comfortably for 10 to 20 minutes, then this is the time for getting the best jumperoo for his. Usually kids reach to that stage in 4 to 6 months age.
Buyer's Checklist for the Best Jumperoo
Here are some things the new moms and dads should check first when shopping for the best jumperoo:
Weight Limit: Check out the weight limit if it suits your baby's weight.
Seat Material: Go for washable, padded seats. Removable seats will be better. The height of the seat should be balanced with your kid.
Suspender: Suspenders of the jumperoo should be safe for kids. One rope suspender may cause injury, so go for two or three ropes.
Toys: Manufacturers designs the jumperoo with a lot of attractive toys. It is a good idea to pick a jumperoo with the toys your baby will love to play.
There are a lot of choices for a baby jumperoo. Let's take a look at our list of the best baby jumperoos available in the market.
List of Best Baby Jumperoo
The best from the list of the best baby jumperoos should be by the company Fisher-Price. Because, they have manufactured so many variations of baby jumperoos for little kids and all of them are famous among parents. The Rainforest Jumperoo has the following features:
Feature:
Spinning seat rotates full 360 degree.
Adjustable seat height when baby grows.
Can be folded up to save room.
Includes a motion sensor that encourages kids by rewarding them with lights and sounds when they jump.
A fun seat and toys at five locations on the platform engage baby all the way around, and an electronic toy at the front has motion, music and lights that can be activated by baby spinning a drum.
10 animal friends all around and overhead, which includes a bobbling elephant, a swinging monkey, a spinning ball, a chew toy, some chips with cute graphics, a parrot, a musical piano, a tiger and a spinning lizard  with rattling sound.
Measures 43.125″H x 32″W x 37″D
Weight limits of 10kg/25lb
Pros:
Toy bar is set over head to encourage kids jump to reach it.
The songs, sounds and lights option for rewarding kids for jumping encourage them to jump as well.
Adjustable height is really handy with the baby's growth.
Supportive frames keep the baby safe.
The battery lift lasts about 2 months or so.
The three side option takes less space than the four side options.
Can be folded away when not in use
Cons:
You cannot get it out the door way at once. You need to pull it apart.
A lot of toys may create safety hazard.
Expensive compared to other brands available.
The second name on the list of best jumperoo is another Fisher-Price product. Both of this and the rainforest jumperoo are equally popular among parents.
Features:
Materials of the jumperoo: plastic, polyester and metal.
Reward for jumping features: music, sounds and lights are added and can also be turned off if necessary.
A bright and fun zoo-themed tray full of toys to touch, tug and chew.
Full 360 degree spinning seat with adjustable height.
Convenient storage system.
Weight limits of 10kg/25lb
Pros:
Adjustable seat heights are great for growing babies.
Designed to encourage kids to jump and move and train them to jump, tug, grasp, improve hand-eye coordination, motor development etc.
Introduce them with a lot of colors and shapes.
There is a small tray for snacks.
Seat is removable and you can take the padding off to wash
Cons:
Some parents claimed the chair doesn't swivel as easily as it should be.
Toys hung from the leaves on the top are made of hard plastic and so they may hit baby's head while she jumps.
Baby Einstein jumperoo is in the best jumperoo list mainly because of its adjustability. All the toys added to this jumper attract the kids and make sure a good time for them.
Feature:
Removable, padded seat material.
Built with different types of colorful toys.
5 different height settings.
Full 360 degree rotation system.
Weight limit: 25 pound.
English, French and Spanish languages learning tools added.
Piano with three features: music, counting 1-2-3 and colors- yellow, green and blue.
Pros:
Educational toys and language learning tools are added.
Adjustable height options are more than other brands.
Takes less space because it's a square jumper.
Very colorful
Cons:
The seat takes an extra pressure to revolve which is sometimes too much for a kid of age 4 to 6 months.
A little hard to assemble, fold and store.
The imported Evenflo Exersaucer is the third in our list of best jumperoos. The jumper is designed with amusing toys and educational elements that will keep a kid occupied for hours.
Features:
Made of 100% polyester.
Around 45 learning elements added, so kids can learn and play together.
Removable and machine-washable seating pads.
Size: 37 inches diameter.
3 height adjustments.
360 degree full rotation facility.
Pros:
Contains a large number of educational items.
Great if you are looking for an animal-themed jumper.
Cons:
Toys on the front trey are made of hard plastic so kids may bump their faces with them while playing.
The tray may flip if the kid leans forward too much.
Costly compared to other brands.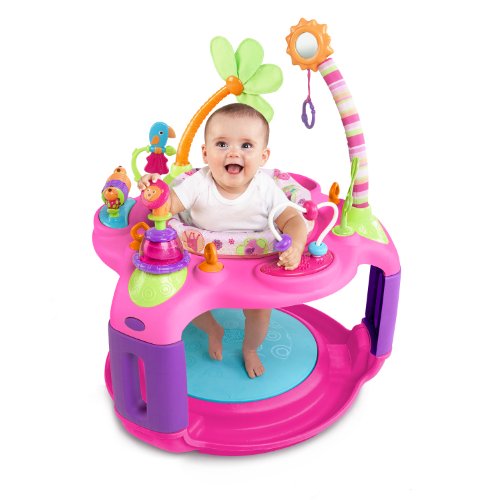 The last brand of jumperoo that took place in this best jumperoo list is manufactured by the company Bright Stars. Flexible quality with fun toys and bright color make this is a great tool for kids.
Features:
Almost 12 or more activities for kids. These include colorful toys and interactive characters.
The seat rotates full 360 degree and the toys and fun items are surrounded around the seating area.
Extra bounce pad cushion added at the bottom of the seat, machine washable.
Adjustable height positions.
Comes in four bright colors: pink, green, purple & blue.
Pros:
Extra bouncy seats, padded for comfort.
Bottom padded cushion keeps the feet from touching cold floor or anything unpleasant on the floor.
Very easy to assemble.
Cheaper than other brands.
It's very tiny and takes less space compared to other brands.
Cons:
Comparatively less toys and entertaining tools for kids.
You need to be aware of the underside of the seat, because those are a little sharper than it should be and can left marks on your baby.
With the best jumperoo, your precious baby will build back, leg and hip muscles and have a strong growth. Some of the jumpers available in the market that contains teachable records or rhymes, some of these introduce colors and shapes to kids. Some of them contain fun, bright toys. But all of these are capable of take care of your kid and keep them safe and happy. Meanwhile you will get to take a break. So make sure to pick the best jumperoo for your kid.