Picking up the best car seat for your baby is a daunting task, isn't it? Specially when there are so many brands and styles available, you need to know in details which one will make your little one most comfortable. Plus, when it comes to a product that your baby will use, safety is always the top in your mind. You will need to take your kids from places to places and only a safe convertible car seat spear you from continuously thinking about their safety and comfort. Maybe you have already passed some months with infant car seat. But after their 1 year or more, you will need to switch to a convertible car seat.
Many brands have convertible car seats that can be set as rear faced and then turn towards the front. They all have tested their products to make it approved as safe products for babies. But the top name in case of convertible car seats is definitely Britax. They brought the ultimate safe and secure car seats for kids and are delivering their products globally.
Britax has these two different styles of car seats available in market – Marathon and Advocate. Since convertible car seats are a bit pricy, you will need to know about these styles before investing a good amount of money on it. Here you will see a full fledged comparison between Britax Marathon VS Advocate. You can also check out the article on the comparison between Britax Marathon vs Boulevard. But first, let's take a look at the list of the things you need to check to pick the best car seat for your kid:
Height & Weight Limits: You should think of the height and weight limit of a car seat so that you can use it for longer time period with your kid growing up. If your kid grows out the current convertible seat, you need to replace it.
Adjustment Options: For the reason mentioned above, a seat with better adjustment options is preferable. You should be able to adjust the height or the straps that hold the baby and also the facing direction of the seat.
How The Seat Holds The Kid: Well, this is where you should be very careful. Because, the seat needs to hold your kid tightly to avoid any kind of unfortunate accident but at the same time, the baby should not feel strapped and uncomfortable. You will need at least four to six straps to make sure your baby is fixed with the seat.
Side-Impact Protection: The baby should have extra protection from the sides of the car seat to protect them from fatal accident. The head or the chest are the most soft parts and you should buy the seats that give extra protection there.
Cleaning Instruction: Do you prefer spot-on cleaning or do you like to take out the seat and clean? Both of them are available in the market.
Latch, Seat Bracing Etc.: The latch that locks the seat with car, the seat bracing everything should be made of high quality material and protected with soft material so that the kid does not get hurt with them. The bracing position also differs.
Budget: Finally, you need to go with your budget. The car seat is one-time-buy and so you need to have a budget for it. If you are tight in your pocket then you can also look for second hand options. 
Britax Advocate vs Marathon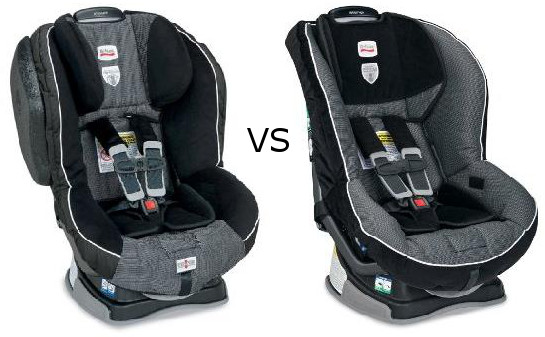 Advocate provides the top level quality seat with the ultimate safety protection. Parents are satisfied with this car seat for its all possible safety features. Very easy to install and adjust the height, straps, or position with a push of some buttons. Top height limit is 49 inch, weight limit is 5 – 40 lbs for rearward facing and 20 – 65 lbs for forward facing.
The 3 layer side-impact protection is the main feature of this car seat which consists of deep foam-lined shell, quick-adjust head protection and side cushions. An impact-absorbing base and steel frame are included. A click-and-safe snug harness indicator makes sure the tightness of the straps is safe and comfortable for the kid and that bits almost 60% of other brands. The base with SafeCell technology, protect children with their forward head movement. No-rethread harness system is involved.
Drawbacks:
Expense is an issue in case of Britax Advocate. The price is higher than most of the brands available in the market.
The size can be a concern. It would be trouble to fit 3 of these seats in the back seat of a standard car.
The cup holder provided with the car is not up to the mark.
Very heavy. So, taking it on an airplane would be a lot of trouble.
Does not fit properly with Britax's wheeled car seat, so carrying it around is a problem.
Britax Marathon comes with highest quality seat with comfortable features planned to make sure of the safety of the children. Easy to install and easy to adjust features make it popular among parents. Like all of the Britax car seat, this also has the SafeCell Impact protection to protect the baby from side collisions and support their head. So, the kid can enjoy a safe ride on a bouncy road.
An impact-absorbing base, a steel frame, an easy on/off lower anchors are included. The harness can be adjusted to a comfortable position with just a push of button. Seat rotation can be limited with the V-shaped tether. Removable pillow keeps the baby happy and make it easy to wash.
Weight limit of this car seat is 5 – 40 lbs. for Rearward Facing and 20 – 65 lbs for Forward Facing position. Highest height of the seat is 49 inch. The  seats made of super comfy materials and kids just love it.
Drawbacks:
Hidden belt pathway makes it harder to use.
The back seat belt is difficult to use.
Weight of the seat can be a problem as it is heavier than other brands available.
Leaves comparatively less space for legs in case of rear facing position.
Pick Your Favorite: Britax Advocate vs Marathon
These two car seats by Britax are similar in various aspects. But still you can define some different qualities that will help you to decide on one from these two for your baby.
Britax Advocate vs Marathon
| | | | |
| --- | --- | --- | --- |
| | Advocate | Marathon | Winner |
| Three layer side impact protection | Yes | No | Advocate |
| Quick Installation | Yes | No | Advocate |
| Better Height Adjustment Options | Yes | No | Advocate |
| Comparatively Easy To Carry | No | Yes | Marathon |
| 3 Seats In A Row | No | Yes | Marathon |
| Automatic Level Indicator | No | Yes | Marathon |
| Supreme SICT | Yes | No | Advocate |
| Fit In Budget | No | Yes | Marathon |
Britax Advocate VS Marathon Conclusion
Britax Advocate is popular among parents mainly because of the protection it can provide to the kid. Extra padded seat makes sure that the kids can have a safe ride even on a bumpy road. Yes, the width of the seat is slightly wider. It takes a large space and you cannot fit 3 seats in a row inside your car. The price is also a concern. But if the width is not a problem for you then you can definitely spend some more cash on a great seat that promises to protect your child more.
Parents like Britax Marathon for the comfortable seats, light carrying option and as an in-budget product. Since you will have to switch to another option from the convertible car seat within say, 2 years top, saving a little cash on it might be a good option for you. The durable structure of this seat will make it till the last of your need.
Both Britax Advocate and Marathon car seats are designed to keep the security of the kids in mind. But you still should look at all of the features before picking the one your kid will like. Not only to you, but also to the company, safety of your kid is the main issue. So, pick one of the two car seats suggested here for your baby and ensure him/her safety on the road.
Price Disclaimer