Summer is here, school is almost out, and the sun is shining. Have you been looking for the perfect sunscreen for your child? Something safe, yet effective to protect their perfect skin for sunburn and sun damage, fortunately, there are some really great options out there for you to choose from.
When I was a kid we rarely used sunblock unless we were at the pool, nowadays with all the information out there about the dangers of the sun, we apply sunblock even to play at the park or our own backyard. I want to protect my kid's skin for as long as I can, and I want the products I use to be safe for their skin as well.
I have put together a list of some of the top, natural, non-toxic sunblock's available.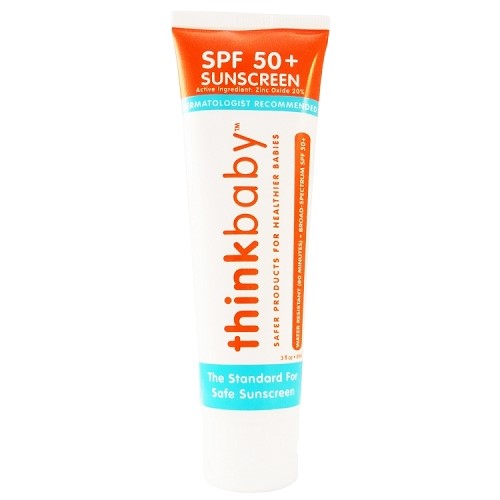 Thinkbaby designed one of the first sunscreens to pass the Whole Foods Premium Care requirements and has been rated #1 with them since 2010. It is free of harmful, unnatural chemicals, and follows the FDA 2012 rules about SPF, UVA, UVB, and water resistance policies. Their sunscreen applies and absorbs easily and evenly, and does not have the typical oily feel or unenjoyable smell. It is produced with our environment in mind right here in the USA.
Babo Botanicals SPF 30 Clear Zinc Sunscreen Lotion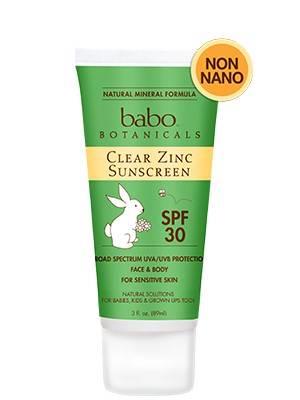 Babo makes some pretty amazing skin care products, all their products are fueled by the power of plant science. They are a family run operation that is based on an organic farm. All their products are developed with the unique needs of babies and children in mind. Since this is a zinc sunscreen, contains 22% zinc, the color will be very white and a little thicker to apply than most other sunscreen products. Their formula is non-nano, contains high UVB/UVA protection, and is all-natural, hypoallergenic and kid-safe.
Badger Baby Natural Organic Sunscreen
This sunscreen from the company Badger Healthy Body Care comes highly recommended. It contains zero chemicals and is made from organic sunflower oil and beeswax. It has a mild scent of chamomile and calendula but is not unappealing or overwhelming. Their sunblock is Pediatrician tested for babies and kids, and it can even be used by the whole family. Their product directions do recommend re-applying after 40 minutes in the water. This is actually a really good practice to get in the habit of doing not matter what type of sunscreen you are using.
California Baby Super Sensitive Broad Spectrum SPF 30 Sunscreen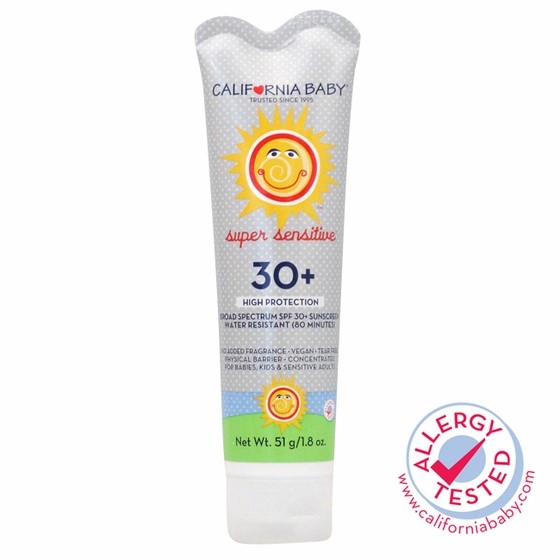 California Baby's super sensitive sunscreen formula comes conveniently in several different sizes so you can be sure to have some with you wherever you are headed. It can be purchased as small as a travel 1.8oz size all the way up to a super-sized 19oz bottle to keep at home. It also conveniently comes in stick form, this is my favorite for faces. If you have ever gotten sunscreen in your kid's eyes, you know how important it is to be extra careful when applying sunscreen to the face, the sunscreen stick makes this really easy. California Baby makes a dermatologist and allergists recommended product especially for kid's chemical sensitivities or those with fragrance intolerance.
Raw Elements Eco Formula 30+ Lotion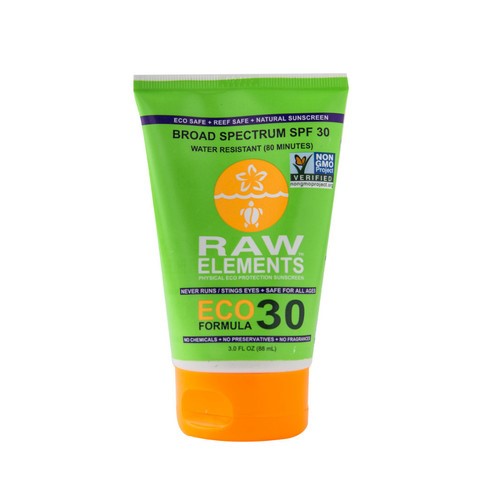 Raw Elements makes a great product that also offers some serious sun protection. Their sunscreen is all natural and free of all the bad stuff and still provides you all the benefits of excellent sun protection. This is a performance driven sunscreen and is water resistant up to 80 minutes. Since it is all natural that makes it safe for children as well as adults, not just a sunscreen it also includes antioxidants, vitamins, and minerals it will protect your skin even after you leave the pool. Their sunscreen also comes in many different forms besides just lotion. It comes in a stick, a tin, and lip balm.
Poofy Organics – The Sunscreen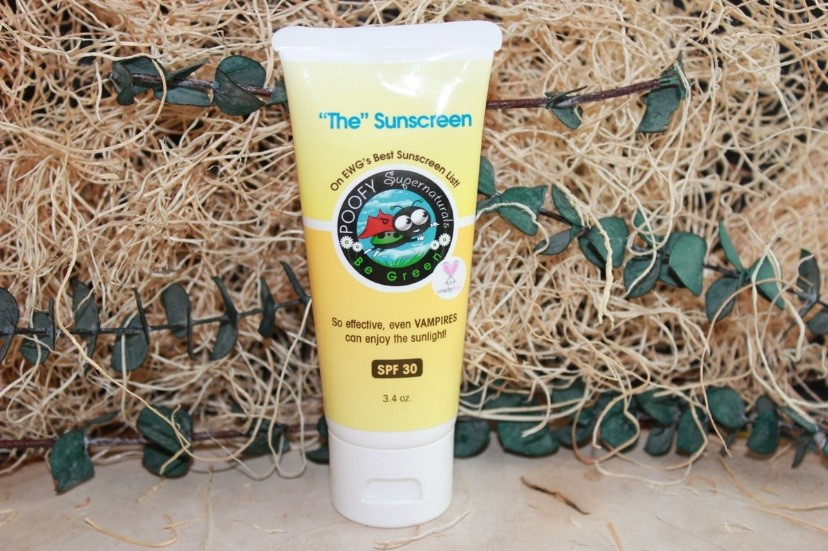 Poofy Organics makes a toxic free, fragrance-free, parabens free, and nanoparticle free sunscreen. Since all the ingredients are safe this sunblock is suitable for anyone adults to babies. Some of the main ingredients it includes are coconut oil. jojoba oil, and shea butter, all nourishing ingredients that are great for your skin. It is recommended that you reapply this sunblock frequently, especially after swimming or sweating heavily.
Loving Naturals Adorable Baby Sunscreen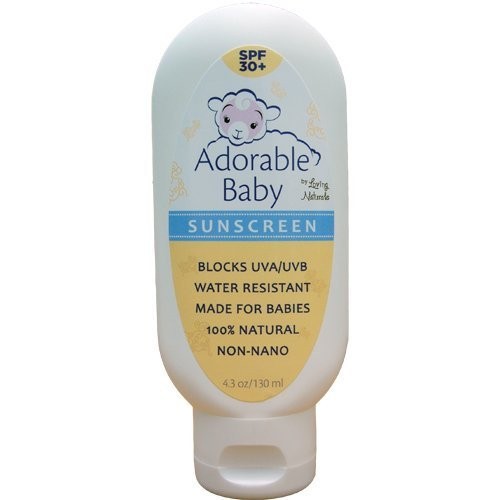 I know I could not resist using a product called Adorable Baby on my adorable baby. Loving Naturals makes a 100% natural sunscreen and sunscreen stick for babies and young children. This is an award-winning sunscreen, one of its top benefits that parents and kids love is that it applies clear. This is uncommon in the natural, safe ingredient sunblock world.
Green Beaver Kids Sunscreen SPF 40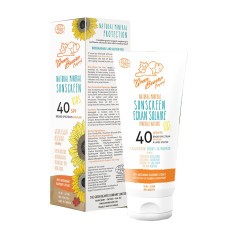 Green Beaver is a family company that uses ingredients from Mother Nature to make their wonderful all natural products. They make everything from household cleaning products to personal care products for the whole family. Their kid's sunscreen is hypoallergenic, chemical free, and fragrance-free. It is a gentle formula that will give your kids wonderful protection from the sun, while also leaving their skin soft and healthy. Their awesome sunscreen also comes in a spray, which I love for quickly applying sunscreen especially for kids who are anxious to get in the pool.
There are a lot of great all natural sunscreen products on the market. When searching for the one that is right for your family, here is a list of ingredients to be sure to stay away from.
Parabens
Phthalates
PEG's (polyethylene glycols)
Phenoxyethanol
SLS/SLES
Synthetic chemical oxybenzone
Most of the products I listed above contain one or both of these safe ingredients, Zinc Oxide or Titanium Dioxide.
I know there is a lot of conflicting and confusing information out there. I believe as the parent of your children to use your best judgment and do what you feel is best for your family. Most importantly enjoy the summer, have fun in the sun and try to relax. Don't forget a good hat and t-shirt are also good protection from the sun.