Whether you are expecting twins or getting ready for another child, a side-by-side stroller is essential in making daily activities convenient for you and your babies. There are a lot of options of best side by side strollers to consider when purchasing a side by side double stroller. These are basically two strollers side by side designed for both children to have equal amounts of room; they can easily see and talk to each other; weight is evenly distributed for easy push and turn. There are baby strollers for everyone; you just have to know which one is a best fit for your lifestyle.
Here are five of the best side by side strollers on the market today:
The Peg Perego is modeled after their famous Book series. It can hold a maximum weight of 45 pounds (each child). This stroller can easily insert itself in doorways and most aisles given that it is only 28 inches wide. It weighs 30.8 pounds and parents have given good reviews regarding its easy maneuvering even on grass and rough terrain. The seats are easily adjustable for reclining and better legroom as well as a canopy to protect your baby from the sun or rain. Underneath the seats are compartments with netted pockets for easy access providing good storage space.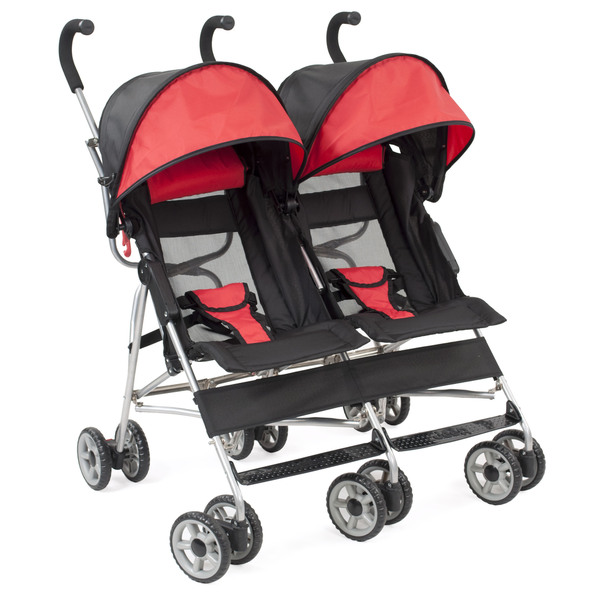 This is a rage among mothers. It has high scores because of its simplicity and comfort. At only $90, this Kolcraft Cloud Side by Side Umbrella Stroller provides a lot of pros. This is suitable for families who live in hot or humid weather. The chairs are made of a material that is cool to the skin and provides good air circulation. The child will not feel too hot enclosed inside though it has a canopy for when the sun is scorching. The seat is equipped with a roll up mechanism to be adjusted per weather of the day. It has a easy release button for parents to readily access when the child is ready to be let down. Weighing at only 22.5 pounds, this is very lightweight and easy to store, it can be folded to fit it any standard car trunk. This can also be glided through any terrain as well as providing enough space underneath for storage.
This stroller is a cousin of the Citi Mini Double. Physically, it looks almost identical but actually provides a lot of different features. The Citi Mini GT is best for families with bigger children. It can carry a maximum weight of 100 pounds. The canopy is higher, the seat to leg rest is longer and the padding of the seat is made from a more durable material to support heavier weighing children. For the parent's convenience, the handle bar is adjustable depending on your height; there is no need to slouch when reaching for the stroller. The air tires are all terrain and can be used on every surface especially jogging. It has an easily accessible hand brake for downhill strolling. This is my favorite side by side stroller.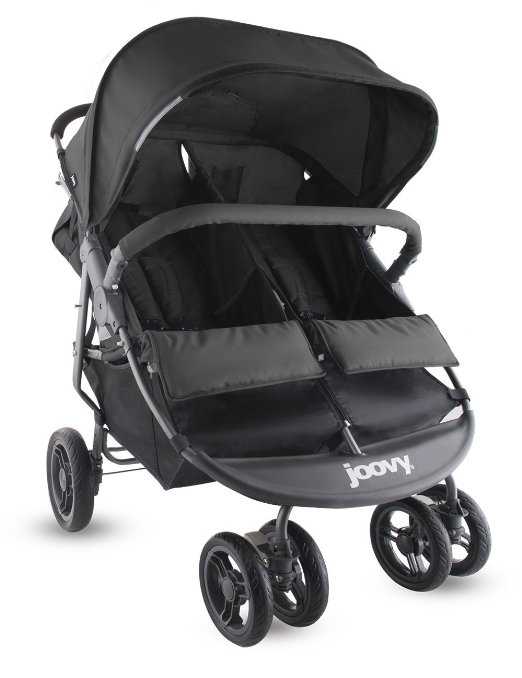 The Scooter X2 is a budget friendly side-by-side stroller to have. It is almost a steal given the features it possesses.  It weighs only 28 pounds making it easy to handle and has a width of 30 inches rendering it possible to steer through grocery aisles and pass through standard doorways. Babies 6 months and older can ride up to children weighing 90 pounds. This is ideal for traveling with the children because it has seats that fully recline for naptime, it has a large storage underneath, and the fabric is made from stain and fade resistant material for their little spills.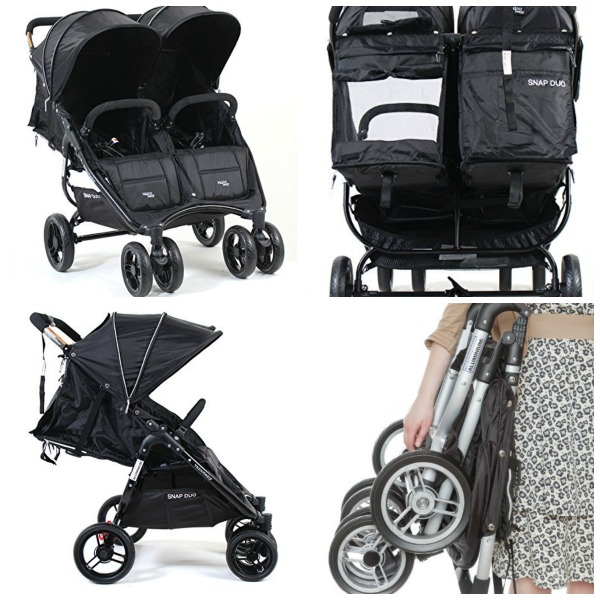 Valco Baby is known for making side-by-side strollers really well. They know and cater to their customer's needs. An important thing to consider is the weight of the stroller and Valco Baby has made the Snap Duo 2 very lightweight at only 23 pounds. Carrying, traveling and strolling are not a problem. It can carry a maximum weight of 44 pounds with adjustable leg rest. Depending on their needs, it has an independent flat reclining seats as well as individual canopy. The storage is spacious and it comes with a stroller organizer for baby bottles and snacks. This stroller comes with a rain cover; the children never have to get wet. The tires are not all terrain but it glides very well and maneuvers easily. The Snap Duo has never been more convenient as it can also be folded with a click and a lock; it comes with a shoulder strap so it can be carried around wherever you go.
In conclusion, choosing a side-by-side stroller is now easier knowing that these are the best strollers out here. Depending on your needs, these 5 double strollers mean business. If you are a petite parent, you cannot find anything lighter than the Valco Baby Snap Duo 2. On the go parent? No problem, Baby Jogger Citi Mini GT double's all terrain tires will not blow off on you. A lot of families like to travel, the Kolcraft Cloud Side by Side Umbrella Stroller has got you covered for it's lightweight and easy to bring along, not to mention keeping the children cool. The Joovy Scooter X2 promises stain free seats, good for naptime and storage for everyday. The Peg Perego Book For Two has easy maneuvering capabilities.
All of these strollers can cater to your needs as parents and picking one of these will surely be the right choice because these are the best side by side strollers for you and your little ones to enjoy.
If you don't like side by side stroller, there are more seat options from Baby Jogger City Select vs Uppababy Vista.