There are two things moms know for sure – we want the best for our kids and after that's taken care of, we want as little mess to clean up as possible. Hydration is very important, especially when it comes to the running around your toddler will do during the "terrible twos" – which is why it's always nice to have a straw cup on hand. Straw cups also help ease the transition from sippy cup and let the little one to use a big kid cup. After all, if you get the right one, you can also prevent spills in the process! After doing the research, here are a few of the best straw cups for toddlers.
4 Best Straw Cups for Toddlers
Noted for its adorable design and flip-down straw that seals, the Skip Hop Zoo Straw Bottle is both affordable ($7) and has a big appeal for kids. Choose from 16 different zoo animal designs to keep your little one happy. This straw cup made for toddlers is dishwasher-safe and BPA-free, holding 12 oz., so your tot has plenty of water while on the go.
Pros:
12 oz.
Affordable
BPA-Free
Straw flips down when closing so it efficiently prevents leaking
Easy to carry with the strap and can be attached to a stroller or bag
Cons:
Print washes off fairly quickly
Easy to get scratched
Holding product completely upside down will cause leaks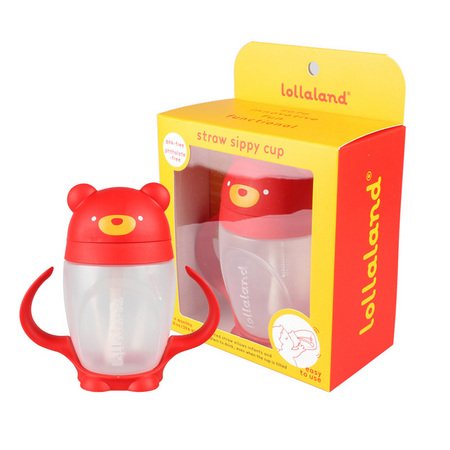 Although you can skip the mess when your toddler has a leak-free straw cup, you still have the hassle of cleaning the cup itself. The Lollaland Lollacup is easy to clean and comes with a straw-cleaning brush for extra measure. All parts are FDA-approved, so you never have to worry about your little one's safety. My two-year old loved it for the color and the ability to still drink in any direction with the weighted straw, even when the cup is tilted, but I was a little disappointed that it only holds 10 oz.
Pros:
Easy to drink, even if cup is tilted
Straw-cleaning brush included
Leak-free straw
Cons:
Only holds 10 oz
Straw has two parts to keep track of
The handle is too big and occupies too much space
Toddlers have a good habit of forgetting about their straw cups until exactly when they need them – sometimes two or three hours after the fact. Thermos Foogo Insulated Vacuum Insulated Straw Bottle takes that into consideration – your toddler's drink will stay cold up to 10 hours. Dishwasher-safe, easy-open and sweat proof features make it a convenient pick for mothers and toddlers on the go. It's always my kids on-the-go cups and I think it's the best of best straw cups for toddlers.
Pros:
Made from stainless steel
Sweat proof
Easy open
Dishwasher safe
Keep water cold even in the hottest day
Cons:
Somewhat pricy
Vent hole can cause minimal leaks
Easy to hold means easy to keep in your toddler's hands – perfect for the car and play time alike. The Gerber Graduates Fun Grips Straw Cup is a great transition cup when your toddler is starting to get a little older. The design keeps it in your toddler's hands and the lid stays firmly on, preventing spills.
Pros:
Affordable
Easy grip
Leak-free
Cons:
Too large for standard cup holders
Sometimes liquid backs up in the straw when first filled
Keeping your toddler's mess to a minimum is no easy feat, but luckily, researching the best straw cups for toddlers can help. These cups are affordable, clean, and safe so your little one can stay hydrated on the go!