When it comes to carrying your child, fathers are often forgotten. It is always the mom who wears the baby with the frilly and colorful designs of the baby carrier. Dads would love to use the baby carrier too and enjoy bonding time with their baby. They might want something more simple compared to moms, therefore; the features to look for baby carriers for dads are: comfort of the baby, simple design, easy to clip on and easy to carry.
Here are five of the best baby carriers for dads I chose for you.
The Baby Bjorn Carrier We is made from 100% cotton and polyester, these materials were tested and are free from harmful and allergenic substances. Starting from birth, this carrier can be used from birth up to a maximum of 33 pounds, more or less when the child is three years old.
Features:
Easily adjustable with a few buckles and safety click
Carry baby facing inward – front or back
Special raised position for the first few months of the baby, can be lowered when the child gets bigger
Comfortable waist belt and shoulder straps to avoid back pains
Hip healthy wide leg position for baby for good hip joint development
Pros:
Upright position keeps babies' airway free and offers plenty of room for arms and legs
Can be easily stored and can fit in diaper bag
Hip healthy baby carrier as tested by the International Hip Dysplasia Institute
Cons:
Not recommend baby to be carried on the back within 12 months of age
Outward facing baby not an option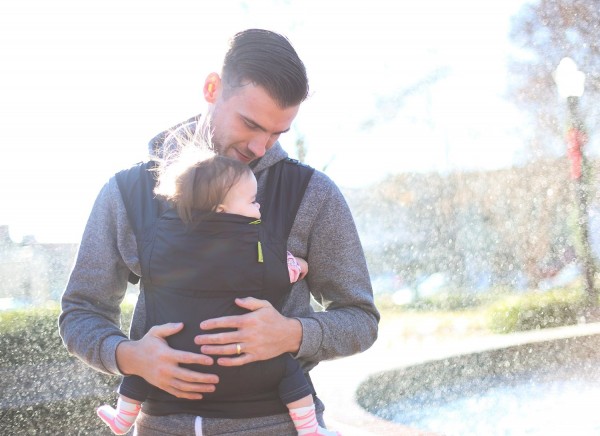 Boba Air is one of the lightest baby carriers there are on the market at just 0.7 pounds. It is easy to fold and keep in a diaper bag or stroller. It can be collapsed in seconds and ready to be brought anywhere without hassle.
Features:
Suitable for children 15 – 35 pounds
Made from 100% Nylon
Duraflex buckles and YKK zippers
Fits adults up to 6'3 in height
Pros:
Baby can be carried on the front or back
Attachable sleeping hood
Adjustable body for growing children
Featherweight
Easy to store and carry with its own case
Cons:
Cannot be used for babies under 15 pounds
No outward facing option
The Caboo DX comes in black with red streaks, a simple design suitable for dad. It is usable for babies from birth and can fit just about any adult with adjustable straps for even weight distribution for baby and lumbar back support for the carrier.
Features:
Wide straps for even weight distribution
Multiple hands free front wearing positions
Integral cord and toggle to naturally support baby's bottom
Available pockets
Pros:
Very durable with structured support
Can be used by newborns
Front wearing position include option for discreet breastfeeding support
Hip healthy wide legged position
Cons:
Not collapsible
Back wearing not available
Soft material might not properly support baby's neck and back
A bit pricey
The Beco Gemini Carrier can carry a child from 7 to 35 pounds, from newborn to toddler. This is easy to carry at just 3 pounds and has easily adjustable padded straps. It is made from 100% cotton and polyurethane filling for baby's padded comfort. Its simple design should not be an issue with dads it is also made from baby safe soy based inks.
Features:
Inward and outward facing front carrier
Inward facing discreet breastfeeding position
Option to use on back or hip
Adjustable straps
Clip on buckles
Pros:
Can be used until toddler age
Option to be worn on hip – not many carriers offer this comfort for you and the baby
Supports breastfeeding in public providing privacy for mom
Ergonomic design for baby's comfort and safety
Cons:
Can only fit adults size 23 to 45 inches – provides some problems with smaller or bigger parents
Buckles can be hard and pinch the skin of the carrier
BushBaby Cocoon Front Carrier
– $65
The BushBaby Cocoon is available in black with micro fleece inside, definitely suitable for dad's simple taste. It weighs 1.2 kilograms and can carry a child 3.5 to 9 kilograms or until about one year of age.
Features:
Padded weight belt and adjustable back for comfort
Removable baby pouch – easily remove pouch and put baby to bed or attach to any standard car seat without having to remove the whole carrier
Inward and outward facing
Available mesh pockets
Pull out shade for rain or sun
Pros:
Lightweight
Affordable
Baby can face outwards or inwards
Easily removable baby pouch
Back friendly design as tested by pediatricians and chiropractors for both baby and daddy's comfort
Cons:
Can only cater to children until the age of one year
Back carrying not available
Not collapsible for easy storage
These baby carriers are suitable for dads as well as moms. When mom is too tired or the baby gets too heavy, dad can step in and you can get them to wear these dad friendly carriers to bond with their children. When looking for baby carriers, the available options are endless, different carriers have different features. These are some of the best the market has to offer that is more suitable for either stay-at-home or on-the-go fathers.