Selecting the Safest Car Seat for Your Child
One of the biggest milestones you and your baby experience right after they're born is their first car ride home. Whether you're behind the wheel driving overly cautious, or sitting in the backseat hovering over your baby to make sure they're okay, the first car ride home is filled with plenty of excitement and anxiety. Nothing is more important than your child's safety, and selecting the perfect child safety seat (also known as a car seat) is part of that.
Unfortunately, automobile accidents are among the highest causes of infant and child deaths. Faulty car seats, as well as improper installation and use, are a major contributing factor to these unintentional injuries. Sometimes the safest car seat isn't the most expensive one, but the one that fits your child the best according to their age, size, and weight.
Britax is the #1 rated car seat brand in the industry, with their products excelling above all others as the safest and easiest car seat to use. Leading in child safety technology for over 70 years, Britax is constantly innovating their products while keeping your child's safety as their top priority. When it comes to developing their car seats, Britax strives for excellence. As a result, they have been able to go above and beyond the federal safety standards for car seats by creating an integrated system of safety components that protect your child unlike any other brand.
Two of Britax's top-ranked convertible car seats (car seats that have the ability to convert from rear-facing to forward-facing) are Marathon and Boulevard. Both are constructed with the highest quality of materials and are superiorly designed to keep your child safe while traveling in a car. Let's take a closer look at the two and compare them side by side.
Britax Marathon vs Boulevard
Price Disclaimer
Marathon provides superior safety for an affordable price, keeping your little one secure and setting your mind at ease. This high-quality car seat is constructed with an impact-absorbing base and steel frame, protecting your child while they rest comfortably in the plush foam padding. Equipped with side impact protection, Marathon encloses your child in a deep protective shell that wards off debris and absorbs forces from a collusion.
You can install the car seat in no time at all with its easy-on, easy-off lower anchors. Also, Marathon grows with your child. With its no-rethread 10-position harness, that can be adjusted with the simple push of a button, and its quick-adjust 2-position buckle, that can accommodate your growing child, Marathon will keep your child safe for years to come.
Boulevard is specifically structured to provide the safest ride for your precious cargo. You can rest assured that your child fits properly in this car seat with its Click & Safe Snug Harness Indicator, which emits an audible "click" when the harness is at the correct tightness. Built with a sturdy steel frame, the car seat is able to withstand forces from impact while maintaining its durability.
Additionally, Boulevard goes the extra mile by offering two layers of side impact protection. This gives the car seat an advance level of protection that not only creates a shield against debris and absorbs impact forces, but also keeps your child's head and neck secure with an energy-absorbing headrest.
Boulevard is a one-stop car seat that grows with your child. Together, the 10-position harness can quickly adjust upward and the 2-position buckle can easily move outward, issuing the most secure and comfortable fit for your growing tot.
SafeCell Impact Protection
Both Marathon and Boulevard are manufactured with Britax's SafeCell Impact Protection. This is an integrated system of safety components working together to deliver the safest environment for your child. The SafeCell Impact Protection is formed by the following four technologies: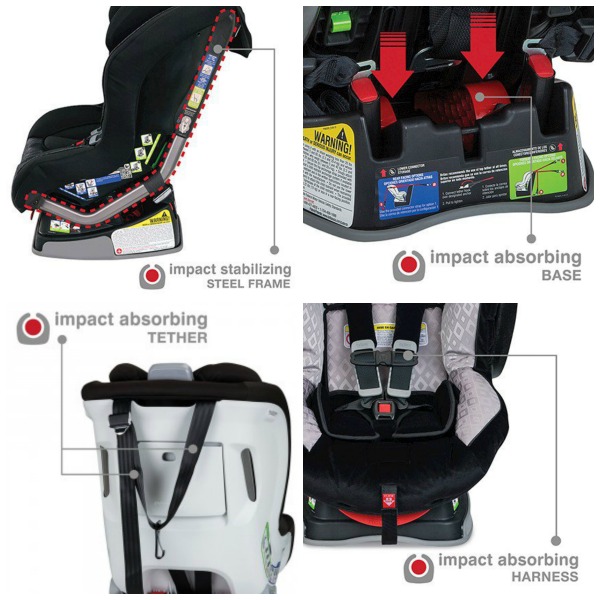 Impact-stabilizing steel frame. Generates strength throughout the car seat where it is needed the most so that the risk of forward flex is reduced.
Impact-absorbing base. Keeps your child from hitting the seat in front of them by absorbing impact forces through compression and preventing forward movement.
Impact-absorbing tether and harness. A special two-strap design restricts the car seat's ability to rotate during impact and decreases forward motion with a patented "give-way" stitching. The harness also absorbs energy from a crash and keeps the chest clip in its correct position.
Side impact protection. Protects your child from flying debris and impact forces in the event of a collusion. Certain models, such as Marathon, contain an additional layer of protection that stabilizes your child's head and neck.
Choosing the Right Car Seat for Your Child
While Marathon and Boulevard are very similar in structure and design, they share a few differences that may be the deciding factor when it comes to you selecting a car seat that is right for your child.
Reviews
The Boulevard car seat is a great choice for parents because it is simple to install, lightweight, easy to adjust and recline, has a soft fabric that is easy to clean, and helps parents find the correct tightness with an audible "click." One downfall that parents have discovered is that this car seat is a bit too bulky for smaller cars.
The Marathon car seat is an excellent product because it has comfortable padding, is easy to install, has a durable structure, and is made with the utmost quality. One negative that parents have expressed is that the seat itself is on the heavier side.
Purchasing your child's first car seat can be an overwhelming and daunting task due to the abundance of brands and styles. Britax has proven to be a top-notch brand that prides itself on developing the very best in safety for you and your family. Both Marathon and Boulevard are exceptional car seats that are guaranteed to keep your little ones safe and secure during every car ride. Whether you're comparing prices or features, make sure you're always putting your child's safety first.
We also compared Britax Advocate VS Marathon and Britax Roundabout VS Marathon.